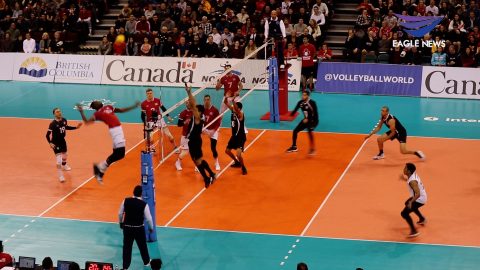 By: Anthony Sevilla
EBC British Columbia Bureau
(Eagle News) – This year the North, Central America and Caribbean Volleyball Confederation (NORCECA) chose Canada to host its three-day round-robin tournament.  In the first day Canada, the 6th ranked team in the world defeated Mexico (ranked 21st in the world) in three straight sets (25-16, 25-14, 25-17) in the first matchup of the NORCECA Men's Tokyo Qualification Tournament.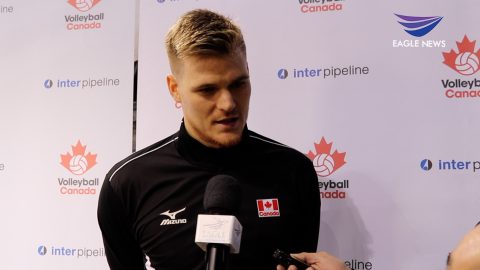 Despite the short preparation for this tournament, Canada looked motivated and ready to go. Mexico led early in the first set, however Canada rallied together and never looked back. They led each set and kept their lead throughout the entire match. They limited turnovers, earned those long rallies, and had excellent serving against Mexico.
"I'm just happy we played a solid game" said Canada's captain, Gordan Perrin. "We didn't make many errors, so we were able to play the rally and get ready."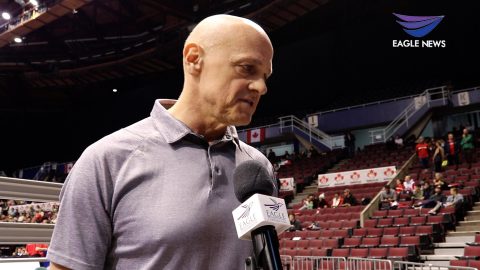 Health also played a huge factor for Canada, who were able to retain their main core for this tournament in Vancouver.
"Our guys are ready" said Canadian Head Coach Glenn Hoag. "this is the healthiest I've seen the group, so it's good."
Last summer, Canada suffered a heartbreaker in which they failed to qualify for the Tokyo 2020 Olympics and found themselves on home soil in a do-or-die qualification tournament with Mexico, Cuba, and Puerto Rico for the last available Olympic berth.
This year Canada is the favorite to come out on top. However, will have a tough task ahead, as they face Robertlandy Simon and 18th ranked Cuba on Saturday, and 24th ranked Puerto Rico on Sunday.