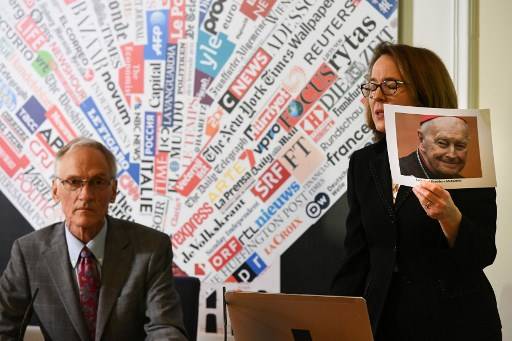 VATICAN CITY (AFP) — A hotly-awaited internal probe into ex-US cardinal Theodore McCarrick, who was expelled from the Catholic priesthood last year over sexual abuse, will be published on Tuesday, the Vatican said.
Pope Francis promised a "thorough" investigation in 2018 into who knew what about the allegations of sexual misconduct — later confirmed — that dogged McCarrick down the years, and how he managed to rise to cardinal despite them.
Victim support groups have been calling urgently for the findings into McCarrick to be made public. The Vatican said on  Friday they would be released next week after an extensive dig through its archives for all documents related to the 90-year old.
The four US dioceses where he served — New York, Metuchen, Newark, and Washington DC — contributed.
Once influential McCarrick, who had played a key role in raising funds for the Holy See from wealthy US donors, was stripped of his cardinal's title in 2018 and his priest's status in 2019.
He was found guilty by the Vatican of the sexual abuse of a teenage boy in the 1970s and sexual misconduct with adult male seminarians, becoming the highest-ranking Church figure to be expelled in modern times.
Pope Francis admitted in 2018 that an internal probe could fuel accusations the Catholic Church has covered up paedophilia and protected predators for decades, but vowed to "follow the path of truth, wherever it may lead".
The investigation followed allegations by the Vatican's former ambassador to the US, Archbishop Carlo Maria Vigano, that senior Vatican officials had known since 2000 that McCarrick would invite seminarians to his beach house for sex, but he was still promoted to cardinal.
Vigano also claimed that former Pope Benedict XVI imposed sanctions on the cardinal in 2009 or 2010 — but that Francis then lifted them.
The Vatican has refused to respond in detail to the allegations made by Vigano, a leading anti-Francis voice, who said he had warned the Argentine pope about McCarrick shortly after his election in 2013.
The Catholic Church has been rocked by a global paedophilia scandal, with victims coming forward from countries including Australia, Chile and Germany as well as the United States.
Francis has promised a policy of "zero tolerance" even for high-ranking church members, and last year passed a landmark measure to oblige those who know about sex abuse in the Church to report it to their superiors.