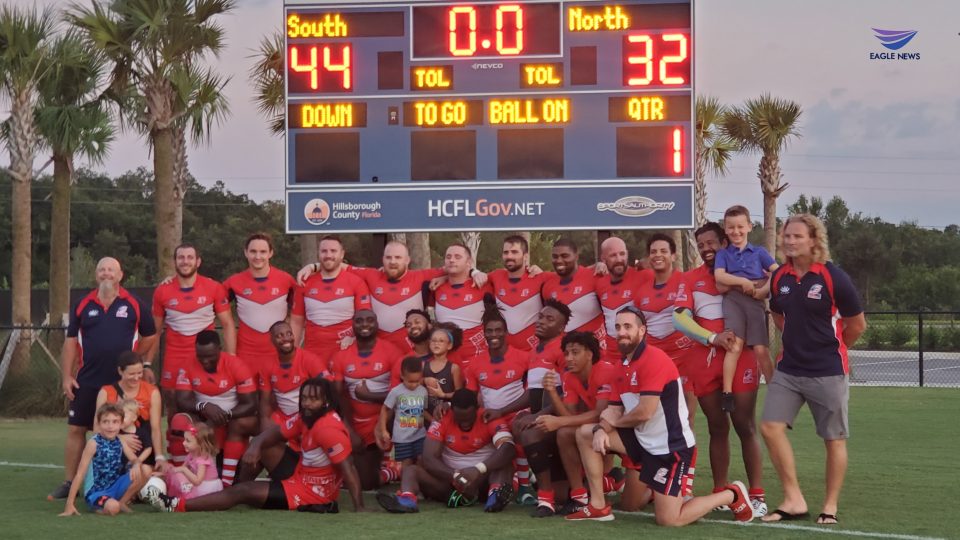 By Joseph Duarte
EBC Florida bureau
TAMPA, FL (Eagle News) — Excitement filled the atmosphere as the USA Rugby League All-Star game showcased the best rugby players in the South and North conferences. Players gathered for one last showdown in Tampa, Florida to close out the 2019 Rugby Season.
In the first half, the North Conference scored the first try of the game at the 11th minute, followed by a second try with a conversion, leading 10 nil at the 15-minute mark. The South Conference came up with the equalizer at the 26-minute mark. But, the northern all-stars would continue fighting and scored 12 unanswered points, leading the south 22-10 at halftime.
Fans, family of players and current active rugby players came out to witness the best players in the league.
"It's a lot exciting. Because it's an all-star game. So, to play with everybody that's an all-star that's really good and it's good competition and it raises the level of your playing and the game and it's just really great. It pushes you. I love it," said active rugby player, Roderigue Ceasar.
Phil St. John, brother of South Conference player, Jon St. John, shared what he looks for in an all-star game and what makes it fun to watch.
"Versatility. You know, in different types of players. You know I kind of just want to see everybody come out and have a nice fun game and see different styles of play," said St. John.
In the second half, the South had a different look. They scored on five straight possessions, overtaking the North with 28 unanswered points. Although the North attempted a comeback scoring two tries, the South eventually put the dagger in at the final minute, solidifying a 44-32 win.   After the game, South Conference Head Coach Sean Rutgerson commented about the sport of Rugby in the U.S.
"Every American that watches it, they seem to really enjoy the contact and the fast paced action. We're trying to sell it as it gives the Americans some contact in the off-season until [American] football starts up again," said Rutgerson.
He also spoke about the developing of skills with the USARL and how there is less time players would acquire them.
"The main difference is the core skills and also, we only have short seasons here," said the former rugby player. "In Australia, this [rugby] is a lot longer. So they play more games. But here, we only get a certain amount of games, so it's hard to catch up because you only learn really by playing so we don't get a chance to play that much. So it makes it a lot harder."
(Eagle News Service)