HONOLULU (Eagle News) – Earlier this month, federal and local officials visited public events at Hawaii's Big Island to pay tribute to the late Edith Kanakaʻole, a Native Hawaiian educator, as her image was recently included in the latest batch of quarter-dollar (25-cent) coins.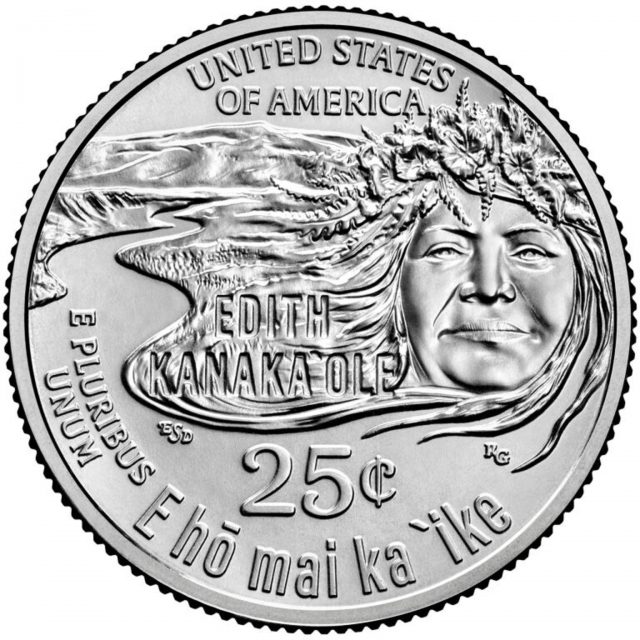 Kanakaʻole, or "Aunty Edith" as she is commonly known, joins four other honorees in the 2023-series quarters, including Bessie Coleman, the first African American and first Native American woman licensed pilot; Eleanor Roosevelt, former first lady and civil rights leader; Jovita Idar, Mexican American activist, journalist, and educator; and Maria Tallchief, America's first prima ballerina who broke barriers as a Native American.
"Edith Kanakaʻole, the first Indigenous Hawaiian woman to be featured on a United States quarter, worked diligently to preserve Native Hawaiian culture, teach environmental conservation, and serve the Hawaiian community at large," said Kristie McNally, U.S. Mint Deputy Director, who spoke to a crowd of nearly 1,100 attendees at the University of Hawaii (UH) at Hilo. "We are proud to recognize her accomplishments through the American Women Quarters™ Program."
The coin's reverse (tail) features a depiction of Kanakaʻole with her hair and lei poʻo (head lei) morphing into the elements of a Hawaiian landscape, symbolizing her life's work of preserving the natural land and traditional Hawaiian culture. The inscription "E hō mai ka ʻike" translates as "Granting the wisdom."
The coin was initially released into circulation on March 27. As of May 1, the Mint has shipped nearly 210 million Edith Kanakaʻole quarters to the Federal Reserve Bank.
Kanakaʻole worked as a teacher at Hawaii Community College from 1971 to 1974 and at UH Hilo from 1974 to 1979. At both institutions, she created courses and seminars on subjects including Hawaiian language, ethnobotany, Polynesian history, and genealogy. She also assisted in the development of the first Hawaiian language program for public school students.
"Aunty Edith" passed away on October 3, 1979.
Edith Kanakaʻole is the third person of Hawaiian heritage to be featured in American hard currency.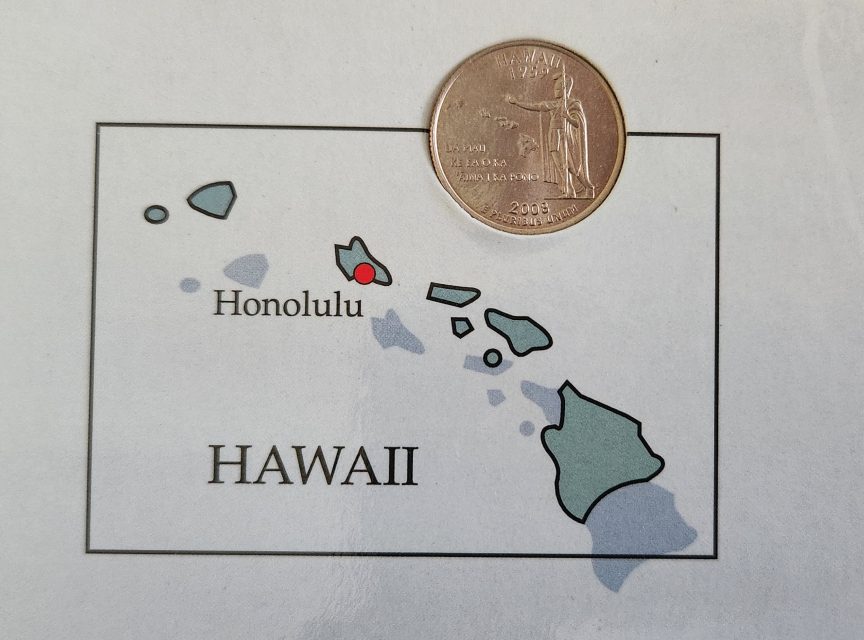 In 1928, the Mint introduced the Hawaiian Sesquicentennial Half Dollar (50-cent piece) during the commemoration of the 150th anniversary of the discovery of the Hawaiian Islands.
The obverse (head) design portrays British explorer Captain James Cook, the first known European to have discovered what he initially referred to as the Sandwich Islands in the Central Pacific.
The reverse features an unnamed native chief with robe and spear, standing on the summit of a hill and extending his hand in welcome. Behind him are a coconut tree and a Hawaiian village of grass huts in the distance along Waikiki Beach at the foot of Diamond Head.
In 2008, Hawaii was featured as the last state in the 50-State Quarters Program, which began in 1999 and honored each of the 50 states according to the date they were admitted to the Union.
The coin's reverse shows the Hawaiian Kingdom's pioneering monarch Kamehameha I stretching his hand toward the eight major Hawaiian Islands. The accompanying inscription "Ua mau ke ea o ka 'aina i ka pono" translates as "The life of the land is perpetuated in righteousness."
(Alfred Acenas, Hawaii-Pacific Bureau, Eagle News Service)