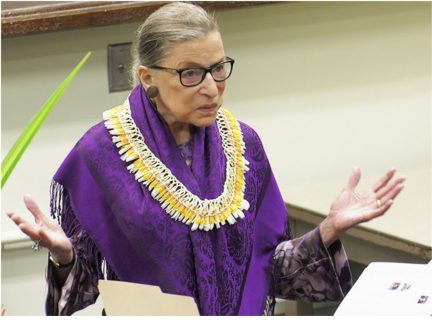 HONOLULU (Eagle News) – The late U.S. Supreme Court Associate Justice Ruth Bader Ginsberg was no stranger to the Aloha State.
In February 2017, Justice Ginsberg took part in the weeklong U.S. Supreme Court Jurist-in-Residence program hosted by the William S. Richardson School of Law at the University of Hawaii (UH) main campus at Mānoa. She taught at the law school previously in 1998 and again in 2004.
During her visits, Justice Ginsberg would teach classes, meet with judges and members of the Hawaii Bar and discuss current judicial issues. Associate Dean Ronette M. Kawakami recalled setting up her engagements not only with UH law school students but also with UH undergraduates and even high school students from 10 schools.
In 2017, the former U.S. Court of Appeals judge received a gift from the law school, which was a Hawaiian lace jabot (judicial collar) made from 49 rare pink kahelelani Niʻihau shells.
The gift was later featured in the 2018 biographical movie about Ginsberg, entitled "RBG." In the film, Ginsburg reaches for a box resting atop several others in her office closet. Upon opening the box, she reveals the gift from the UH law school.
"This one was given to me by the University of Hawaii," Ginsburg explained in the documentary to co-director Betsy West. "(It was) made with French lace, and the beads (shells) are from the beach."
Kawakami described that she herself designed, sewed, and presented the collar in addition to her many duties as key hostess during Ginsburg's five-day visit.
"She's a lefty, so I made the special, delicate collar decorated with shells gathered on the island of Niʻihau to be lefty-friendly," said Kawakami.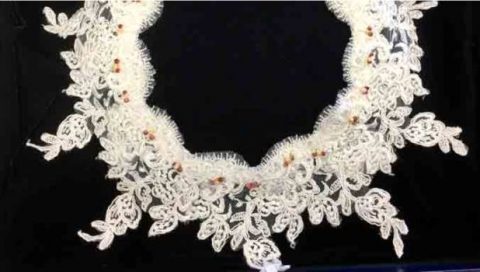 Justice Ruth Bader Ginsberg passed away at the age of 87 at her home in Washington, D.C. on September 18, 2020.
Since 1987, the University of Hawaii has invited members of the nation's highest court to teach at the law school. The law firm of Case Lombardi & Pettit has been sponsoring the Jurist-in-Residence program since 2000.
Other justices who have visited the Aloha State include Stephen Breyer (2008), Samuel Alito (2011), Sonja Sotomayor (2012), and the late Antonin Scalia (2000, 2014).
(With reports from EBC Hawaii Bureau, Eagle News Service)