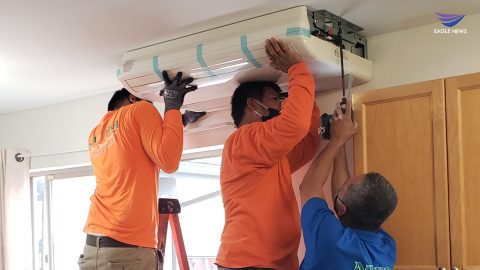 HONOLULU (Eagle News) -The University of Hawaii (UH) Community Colleges in partnership with the City and County of Honolulu will hold a short-term employment training program as part of the "Oahu Back to Work" initiative. The training program, scheduled to run from October 5 to December 18, will offer free job skills courses to the residents in an effort to address the growing employment gap on Oahu Island.
"I would like every struggling Oahu resident to check out this great opportunity, really think about the possibilities, and enroll if it seems right for you," said Mayor Kirk Caldwell. "As we attack the coronavirus with public health measures, we must also attack COVID's economic toll with our talents and resolve. When one person builds their skills during this crisis, we all benefit. I thank everyone at the community colleges and all the future enrollees for contributing to rebuilding our island home."
The coronavirus pandemic and subsequent emergency orders have dramatically resulted in negative impacts on Hawaii's economy and displaced many workers. In August 2020 alone, Honolulu's non-seasonally adjusted unemployment rate was 11.8% compared to 3.4% in August 2019. July 2020 counts reflected nearly 48,000 unemployed civilians in Honolulu and likely undercounted those who would be considered "marginally attached" to the labor market or who are not eligible for unemployment—those who are self-employed—and do not appear in the unemployment counts.
"Our goal is to provide 2,000 Oahu participants with short term training for jobs that are currently available or will be available in the near future," UH president David Lassner explained. "The courses offered will focus on the skills that employers in each of these sectors indicated are most needed. This training should give participants the tools they need to succeed in our changing and challenging economy."
Instructors at eight UH Community College campuses will be providing mainly virtual courses to nearly 100 different training opportunities. There will be few select classes meeting in Honolulu.
Fall courses available include Business; Health; Industrial Engineering; Technology; Natural Resources; Public and Human Services; and Trades.
Healthcare Association of Hawaii president and chief executive officer Hilton Raethel stated, "We appreciate the efforts by the University of Hawaii System and the mayor to get this initiative going. The type of training that it will provide helps to inspect, repair, and maintain a pipeline of high-quality staffing for our healthcare organizations; and, it could not have come at a better time when people need the work."
Eligible participants must be Oahu residents and have their job situation impacted by the pandemic, such as furloughs, lost hours, or unemployment.
The City and County of Honolulu has allocated $3 million of its CARES Act Coronavirus Relief Funds to support the free training program.
Information on the available courses and registration procedures are available at OahuBacktoWork.com.
(Eagle News Service)