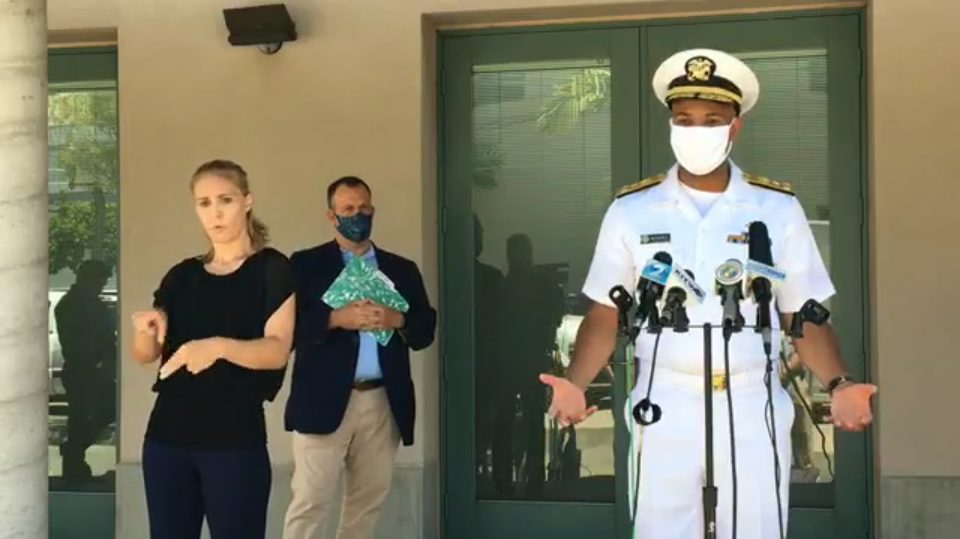 HONOLULU (Eagle News) – The State Government of Hawaii and the City-County of Honolulu, in cooperation with the U.S. Department of Health and Human Services (HHS), have joined forces to conduct widespread COVID-19 testing throughout Oahu Island for the next 12 days starting on Wednesday, August 26. The Honolulu Fire Department will lead the effort.
"I'm glad to be here on Oahu to represent HHS as these testing sites are stood up, increasing access to critical testing resources," said U.S. Surgeon General Dr. Jerome Adams during a press briefing in Honolulu. "If you or a loved one are worried you may have come into contact with COVID-19, please make an appointment to get tested. It's easy, and most importantly, free!"
Adams continued, "This is an excellent opportunity for concerned Oahu residents to get tested. This mass testing is also a chance to better understand the level of infection across Oahu as our healthcare system has become increasingly concerned about its capacity to handle the caseload. County, state, and federal partners will continue to work together to protect the health and safety of the people of Hawaii."
"Doing this on a massive scale can help to reset Oahu, break these surges, and put us on a path to recovery," said Mayor Kirk Caldwell. "If as many as possible participate in the next two weeks, then follow up with protective action, we can beat this. The County asked for help, and the Federal Government's Coronavirus Task Force stepped up. We need to find out where the virus is in our community."
Caldwell stressed, "The best thing to do right now is to get yourself tested, get your family tested, encourage your coworkers, neighbors, anyone in your circles to do this. Keep your circle protected and sequestered for the next 14 days. This will knock out this virus. The intent is to test as many residents as possible, guide those that test positive, and give families peace of mind with their negative results. From that point on, everyone should work to protect their circle for 14 days. Stay home, stay away from gatherings. Stay safe."
Testing at the surge locations is available at no cost to individuals five years and older, including those experiencing symptoms; those who believe they may have been exposed to someone with COVID-19; and anyone who is worried about possibly having the virus.
Individuals seeking testing do not need to be a resident of the community where these testing sites are located. Individuals under 18 years old must have a parent or legal guardian present to consent to testing. Results are expected to be available three to five days following a test. There will be 60,000 tests available over the course of 12 days.
The federal government is providing the tests and covering all associated costs. Every individual getting tested will also receive five cloth face coverings so they can protect others from COVID-19.
In addition, COVID-19 positive households can now get free testing for all family members. Testing procedures and results will be kept confidential. Results will be made available via e-mail notification in as early as three days. Surge test participants will not be subject to the 14-day quarantine that other test programs require.
More information is available at www.doineedacovid19test.com.
As of this report, Hawaii has confirmed 215 new COVID-19 cases, adding to the statewide total to 6,984. The last time the Aloha State reported double-digit new cases was on August 6, but this was due to electronic reporting issues from one private laboratory.
(With reports from EBC Hawaii Bureau, Eagle News Service)