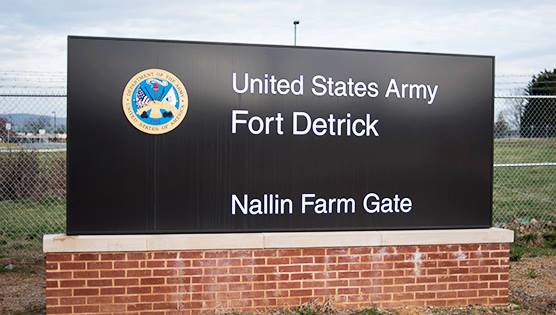 (Eagle News) — Two active duty sailors assigned to Fort Detrick in Frederick, Maryland were seriously injured when a gunman shot them at a warehouse rented by the Naval Medical Research Center, Biological Defense Research Directorate. The shooter then drove onto the Fort Detrick where he was fatally shot after driving about half a mile into the base.
At about 8:20 a.m. on Tuesday, Frederick Police responded to reports of an active shooter on the 8400 Block of Progress Drive. They found two adult males shot, both suffering life-threatening injuries.
Both victims were transported by helicopter to a nearby hospital. One victim was initially in serious condition but was released from the hospital Tuesday afternoon. The other wounded sailor is in critical but stable condition.
The gunman was identified as Fantahun Girma Woldesenbet, 38. Authorities confirmed that Woldesenbet was an active member of the Navy at the rank of E4 who resided in the city of Frederick but did not live on the military base.
After shooting the two victims with a rifle, the shooter, then drove to Fort Detrick.
"The gunman was stopped at the post's gates, but before the vehicle could be searched the shooter took off, said Army Brig. Gen. Michael J. Talley. "He was stopped about 1/2 mile onto the installation, where he got out of the car, brandished a weapon and was shot by police."
Frederick Police Department is handling the investigation at Riverside Tech Park and the Federal Bureau of Investigation is leading the investigation at Fort Detrick. Both investigations are still ongoing and more information will be released as it becomes available.
(Eagle News Service)