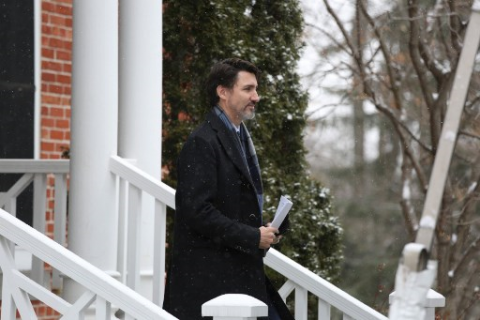 By Thomas I. Likness
EBC Edmonton Bureau
EDMONTON (Eagle News) — Canadian Prime Minister Justin Trudeau warned Thursday scammers are already trying to steal government aid promised to those who have lost income due to COVID-19.
Yesterday, the government announced that people who lost jobs because of the pandemic, were under quarantine or were caring for someone who was quarantined would receive $2,000 a month for up to four months.
An application portal has not even been launched and Trudeau said thieves are already after the money.
"I'm sorry to say that there appears to be a text scam going around on the new Emergency Response Benefit," said Trudeau. "I want to remind everyone that the government's website is the best place to find reliable information on everything we're doing."
Scammers send a text that reads "Alert: The emergency response benefit of Canada relief fund has sent you a deposit of $1375.50."
The text then asks them to click on a link and provide personal information so that they can get the money.
Trudeau says the government will set up a portal soon and that is the only way people can apply for the money.
Trudeau also said the government is concerned about interest rates on credit cards. Many people who do not have savings are relying on credit to meet their financial needs.
"I can assure you that the finance minister has had conversations directly with the banks about credit card interest rates," said Trudeau. "We recognize that they are a significant challenge for many Canadians at this point."
"That is why we are encouraging them to take action to alleviate the burden for Canadians," he added.
He hinted the government may come up with some lower cost credit options for people.
"We are looking on our end at making credit more available and less expensive for Canadians to be able to make it through the next few months," said Trudeau.
(Eagle News Service)