(AFP) — US and European stock markets shot higher on Friday following data that showed US job creation slowed but remained positive last month, belying fears of a recession induced by interest rates and inflation.
Labor Department data showed US employment increased by 315,000 jobs last month, which was in line with what economists were expecting but at a much slower pace than the 526,000 hires in July.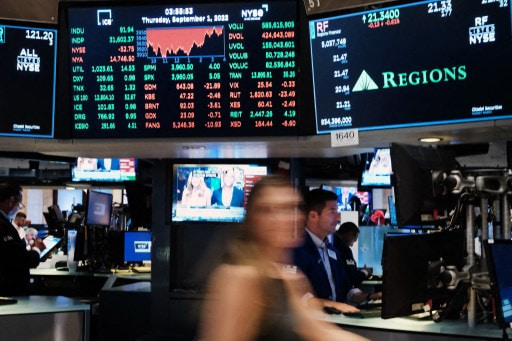 US Federal Reserve Chairman Jerome Powell signalled last week that the US central bank would continue to aggressively raise interest rates in order to bring surging inflation under control, even if it creates some short-term economic pain.
The latest jobs data show the Fed's two 0.75-percentage-point interest rate hikes are having an impact on the US economy without completely derailing it.
"The key takeaway is that the labor market remains in pretty solid shape," said market analyst Patrick O'Hare at Briefing.com.
"It didn't function with the same zest it showed in August, but, objectively, it is running at a pace that is wholly inconsistent with an economy on the cusp of a recession," he added.
Recent healthy readings on US factory activity, unemployment claims and private jobs creation have also indicated the world's top economy remained strong despite rising interest rates and four-decade-high inflation.
"Traders believe that the jobs' report is moving back to normal and the economy can handle some interest rate increases," said Naeem Aslam, chief market analyst at Avatrade.
Wall Street's main indices climbed, with the Dow up 1.1 percent in late morning trading, while both the S&P 500 and Nasdaq Composite rose 1.2 percent.
In Europe, Frankfurt soared 3.3 percent, while Paris jumped 2.2 percent and London climbed 1.9 percent.
– 'Goldilocks scenario' –
Analyst Craig Erlam at OANDA trading platform said "there are aspects of the report that will please the Fed and support the case for easing off the brake."
Markets have been expecting a third 0.75-percentage-point hike later this month, but Avatrade's Aslam also pointed to the unemployment creeping higher to 3.7 percent.
"This is a goldilocks scenario for traders who now know that the Fed is unlikely to increase the rate aggressively," he said.
"This factor has pushed the dollar index lower and gold prices moved higher on the back of this," he added.
The dollar had rallied this week to highs not seen for decades including against the pound, euro and yen on expectations that the Fed would continue to raise interest rates aggressively.
The yen hit a new 24-year low against the dollar on Friday.
Elsewhere on Friday, oil prices rallied on fading expectations for an Iran nuclear deal anytime soon, with the market shrugging off a declaration by G7 nations they intend to quickly impose a price cap on Russian oil exports as they tighten sanctions on the Kremlin over the invasion of Ukraine.
© Agence France-Presse