WASHINGTON, May 22, 2023 (AFP) – South Carolina Senator Tim Scott launched his bid to become the first Black Republican US president on Monday, vowing to fight for a return to the American way of life he said was under threat from Joe Biden's Democrats.
The 57-year-old brings an inspiring life story to the campaign, having risen from poverty in a single parent household to become one of the country's most influential conservatives.
"Joe Biden and the radical left are attacking every single rung of the ladder that helped me climb and that's why I'm announcing today that I'm running for president of the United States," he told cheering supporters in his hometown of North Charleston.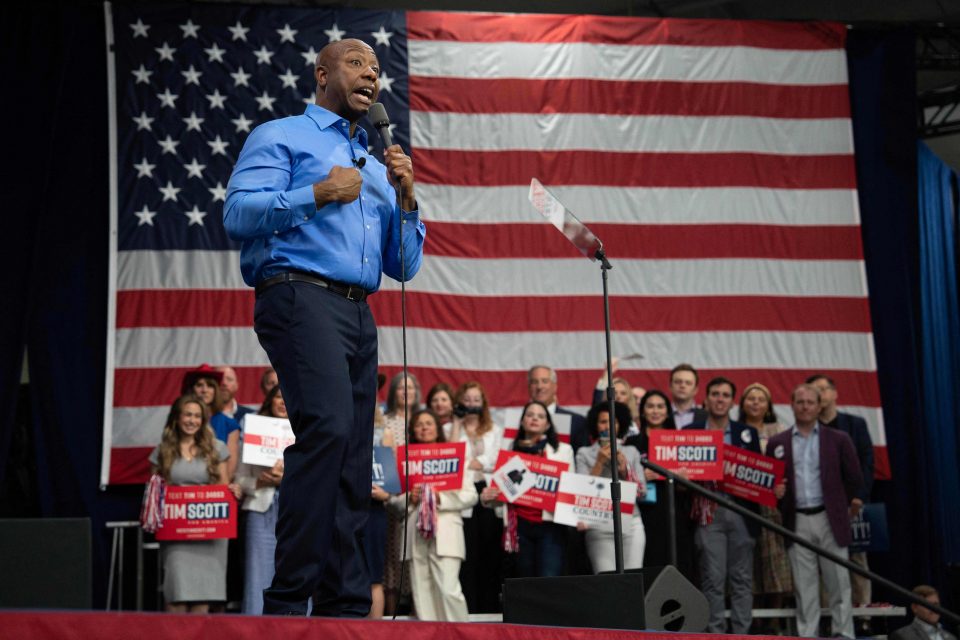 "You see, they're attacking our American values, our schools, our economy, and our security. But not on my watch. Not on my watch. That won't work. I can't stand by while this is done to America."
Scott has spent months crisscrossing the states considered crucial to gaining early momentum in the primary contest, underlining his Christian faith and his unique perspective as the only African American on the Republican side of the US Senate.
He joins a burgeoning field hoping to reel in frontrunner Donald Trump, but faces a daunting task matching the former president's national profile.
Recent polling shows Scott's support languishing under two percent — an average of 54 points behind the former president.
Other candidates include Trump's first United Nations ambassador, Nikki Haley, ex-Arkansas governor Asa Hutchinson, tech entrepreneur Vivek Ramaswamy and talk radio host Larry Elder, the first African American to enter the race.
The most hotly-anticipated primary event so far, though, will be the official campaign announcement of Trump's biggest rival, Florida Governor Ron DeSantis, expected on Wednesday.
The former president, who benefits from a crowded field that would split the anti-Trump vote, took to his social media platform to wish Scott luck — while taking a swipe at DeSantis.
"It is rapidly loading up with lots of people, and Tim is a big step up from Ron DeSanctimonious, who is totally unelectable," Trump said.
Scott, who is considered one of the Senate's most formidable fundraisers, brings a war chest of around $22 million — and the notable backing of Senate Republican number two John Thune, who called his friend the "real deal."
The former insurance salesman was expected to meet donors and then head to Iowa and New Hampshire, where he has already reserved $6 million worth of advertising.
"We live in the land where it is absolutely possible for a kid raised in poverty in a single parent household, in a small apartment, to one day serve in the People's House and maybe even the White House," Scott said.
"This is the greatest nation on God's green Earth."