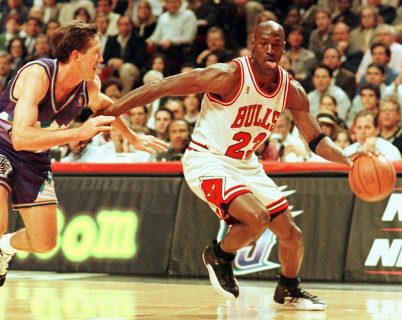 NBA players LeBron James, Jaren Jackson Jr. and fans share their thoughts on the GOAT
By: Tennie Sumague
EBC New York Bureau
(Eagle News) – If one were to ask me my favorite decade in sports, my answer is the 1990s because of one athlete named Michael Jordan. With the sports world on hiatus due to the COVID-19 global pandemic, fans were treated to watch "The Last Dance", a 10-part documentary event that highlights the superstar and his Chicago Bulls dynamic run to the NBA finals in the 1990s.
I lived vicariously through the Jordan era enough to understand why he is pegged to be the greatest of all-time. Jordan's greatness played a huge part of my love for basketball. I graduated from elementary school the year he and the Bulls won their first NBA title in 1991. From there, I began to obsess on all things Jordan, begging my father to buy me a bunch of memorabilia – shirts, posters, books, trading cards, and the collector's edition of Sports Illustrated to be exact. "NBA Inside Stuff" was one of my all-time favorite sports shows where veteran sports broadcaster, Ahmad Rashad shared cool stories on Jordan weekly.
I aspired to "be like Mike" as a student-athlete, mimicked his tongue sticking gestures, ate Wheaties before game time, and drank Gatorade to help me excel on the court. I wanted to be clutch like Jordan. I glued myself to the television around the time of the NBA playoffs, torn between rooting for the Bulls and my beloved New York Knicks. I was in awe at all of his heroic performances at his favorite arena – Madison Square Garden. Though it pained me to see Patrick Ewing, John Starks and company deflated and defeated in 1993, watching MJ torment the Knicks and soldier onto championship glory solidified his greatness.
"MJ is the definition of legendary," said EBC Seattle Bureau correspondent Michael Hudson.  "His aura, work ethic and clutchness is what makes him the greatest athlete who has ever lived. He is the greatest of all time in my opinion because his super-athleticism, coupled with his hyper-attention-to-detail, when it came to fundamentals made him a force to be reckoned with."
"Clutch" should be Jordan's middle name. MJ battled through all sorts of adversity, illness and raucous fans and won every time. The famous "flu game" from the 1997 Finals, which was revealed as a case of food poisoning in the finale of "The Last Dance" resulted in a 38-point performance. Outdueling Reggie Miller and the Indiana Pacers in Larry Bird's first season as coach plus the clutch jump shot against the Utah Jazz that sealed their sixth championship in 1998 personified him as the greatest to ever play basketball. Even battling fictional "Monstars" alongside Bugs Bunny, Jordan came out victorious.
"MJ was the perfect basketball player", said EBC Southern Ontario correspondent Adian Pangilinan. "Extremely talented, an elite athlete, charismatic, insanely competitive and an absolute winner. Nobody wanted it as badly as him and he could find a way to win at all costs."
"I found myself rooting for the underdogs every playoff. Gary Payton playing lockdown defense (at the 1996 Finals) was admirable, but MJ still won. The moment that stands out most is obviously the shot in Utah, Game 6 (1998 Finals)  but more than that, I would say beating the Monstars in Space Jam and doing the Jordan logo dunk from half court while all the Monstars tried to drag him down, that was great."
The intense series between the Bulls and the Jazz in the 1997 and 1998 Finals were "heart wrenching and nerve wracking" remembers New Jersey fan Kristoffer Valdez.
"It was in the 90s when I was idolizing stars as a kid. And [MJ] was that STAR. The games in the finals against the Jazz were so heart wrenching and nerve wracking, but it was so worth the feelings when [those] victories were achieved."
Jordan's leadership and competitiveness inspired past, present, and future NBA superstars. The late Kobe Bryant carried the torch for the next generation of fans. In his Hall of Fame speech in 2010, all Allen Iverson ever wanted was "to be like Mike" and gave him that vision. Zion Williamson hopes to emulate his defense in the NBA.
LeBron James idolized MJ and Bryant as a kid growing up in Akron, Ohio.
"I grew up idolizing Michael, idolizing Kobe, idolizing those guys, gaining inspiration from their craft [and] gaining inspiration from their stories," James said last January when the LA Lakers visited the Brooklyn Nets. "Being a kid from Akron, Ohio, that's huge. Anytime that I'm linked with the greats or if I'm able to do something in my career where I'm mentioned with the greats, that's a pretty cool thing."
Memphis Grizzlies forward Jaren Jackson, Jr. greatly admired MJ's mentality last month in a press conference.
"Mentally, nothing fazed MJ. Mentally, there is nothing that fazed MJ. Nothing is going to stop him from going out there and doing his absolute all to win. I think his mentality is something you have to admire and take away from sure. That chip on your shoulder mentality is something I always had. To have that killer instinct to always be on your game all the time, and never have any doubt in your mind. He never really doubted himself, as you can see. He is very confident in himself and he goes that extra step to make sure he helps his team in whatever way that will get it done."
"The Last Dance" documentary not only brought nostalgia to fans but it showed how his leadership impacted the world beyond basketball. Jordan was better than advertised. He was passionate about his talents, charitable off the court and proved his loyalty remaining on one team under one coach. A winner by nature who wanted everyone to be part of that kind of culture. With that said, I want "to be like Mike."
(Eagle News Service)