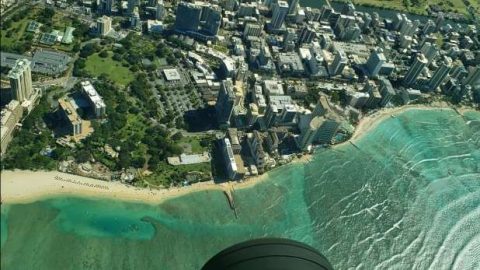 HONOLULU (Eagle News) – According to a new study released on Monday, September 21, by the Coastal Geology Group at the University of Hawaii's School of Ocean and Earth Science and Technology (SOEST), as much as 40% of all beaches on Oahu island alone could be lost before the middle of this century.
The team of scientists, led by graduate researcher Kammie Tavares of SOEST's Department of Earth Sciences, assessed the shoreline around Oahu that would be most vulnerable to erosion under three scenarios of sea-level rise, all estimated to occur within the next 30 years.
"By assessing computer models of the beach migration caused by 9.8 inches (0.25 meters) of sea-level rise, an amount with a high probability of occurring before mid-century, we found that emergency permit applications for shoreline hardening to protect beachfront property will substantially increase," Tavares stated.
Beach migration, also known as shoreline retreat, is a natural process causing the coastal erosion of private and public beachfront property, resulting in beaches to shift further inland.
Shoreline hardening on the other hand, particularly the construction of seawalls or revetments, interrupts the migration process, causing waves to erode the sand and accelerating coastal erosion on neighboring properties, dooming a beach to drown in place as the ocean continues to rise.
The team identified the location and severity of risk of shoreline hardening and beach loss; as well as a potential timeline for the increase in erosion hazards.  The most threatened properties fall into an "administrative erosion hazard zone," an area likely to experience erosion hazards and qualify for the emergency permitting process to harden the shoreline.
"We determined that almost 30 percent of all present-day sandy shoreline on Oahu is already hardened, with another 3.5 percent found to be so threatened that those areas qualify for an emergency permit today," said Tiffany Anderson, assistant researcher in the Department of Earth Sciences.  "Our modeling indicates that, as sea level rises about 10 inches (0.25 meters) by mid-century, an additional nearly eight percent of sandy shoreline will be at risk of hardening, meaning at that point, nearly 40 percent of Oahu's sandy beaches could be lost in favor of hardened shorelines."
The study further suggests that the government's "reactive and piecemeal approach" to manage Hawaii's beaches over the years has failed, and strongly recommends that current beaches be allowed to migrate naturally in concert with changes in the ocean's conditions.
"In another study published in 2018, we showed that accelerated erosion on neighboring properties, called flanking, usually leads to additional shoreline hardening, and condemns entire beaches," said co-author Chip Fletcher, associate dean and professor in SOEST.  "It is clear that management decisions made today, and during the careers of most of today's natural resource managers, will be critical in determining if future generations will inherit a healthy shoreline, or one that has been ruined by seawalls, and other types of shoreline hardening."
(With reports from EBC Hawaii Bureau, Eagle News Service)