By Alfred Acenas
EBC Hawaii-Pacific Bureau
HONOLULU (Eagle News) – The Hawaiian Islands can expect above average rainfall during the wet season that began on October 1 and ends in April 2022, according to the Climate Prediction Center (CPC) of the National Oceanic and Atmospheric Administration (NOAA).
CPC further predicts that large-scale wetter than average conditions will be likely between January and April, and that rainfall distribution can be influenced by the strength of the weather phenomenon known as La Niña.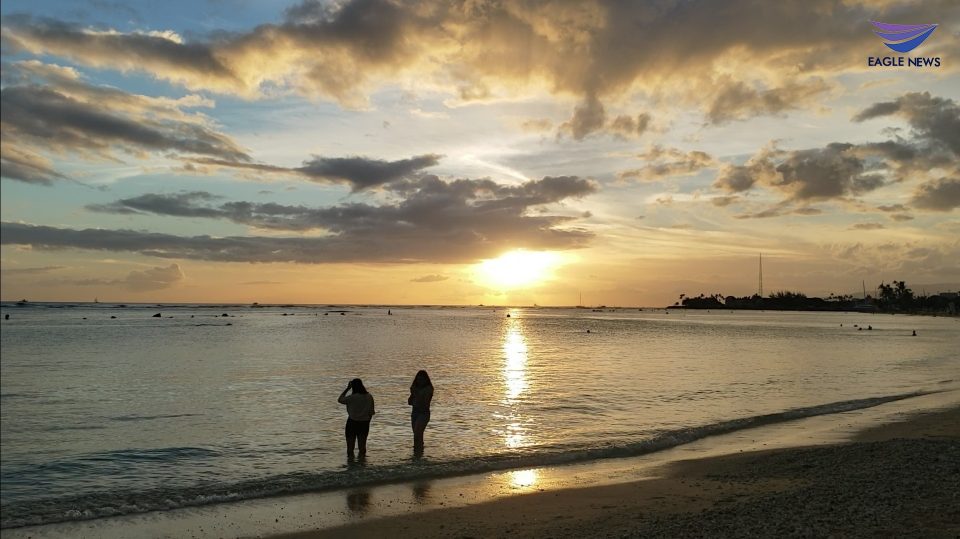 In past La Niña events, trade winds were typically more frequent, often producing heavier rainfall, on the windward or mainly northern and eastern areas of the Islands; while weaker La Niña systems generated significant downpour on the leeward or western areas of Hawaii.
Scientists drew similarities between the current forecast to similar conditions during the 2011-2012 and 2020-2021 wet seasons. Heavy rainfall may focus primarily on the windward slopes while leeward areas remain dry. Drought recovery is also more likely to occur on the Islands of Kauai and Oahu, as well as the leeward areas of the Islands of Maui and Big Island.
Under any weather condition, NOAA continues to remind residents and visitors the following tips:
1. Do not drive on roads with fast-flowing water. Just two feet or 0.6 meter of fast-flowing water can sweep most vehicles off the surface.
2. Do not walk across flooded streams. If hiking and stranded, wait for the water to recede as streams in Hawaii generally recede quickly.
3. Expect more rainy weather impacts, to include increased road travel times; possible detours or road closures due to flooding or landslides; and outdoor activities being postponed, canceled, or adjusted.
4. Watch out for lightning strikes. Be prepared for power outages, especially when thunderstorms are forecast. Move indoors when hearing thunder or upon seeing a flash of lightning. Lightning strikes can also occur even in areas where it is not raining.
5. Although rare, thunderstorms occasionally produce damaging winds, large hail, and tornadoes in Hawaii.
6. If traveling through a flood-prone area, identify alternate routes ahead of time.
7. If living in a flood-prone area, have an evacuation plan ready in case flood waters quickly threaten the home or neighborhood.
8. Stay informed of conditions that could change rapidly. Sunny skies can turn cloudy with intense rainfall in less than an hour.
(Eagle News Service)