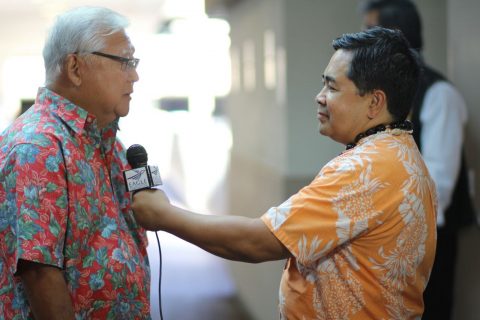 HONOLULU (Eagle News) – Governor David Ige announced that Hawaii's Director of Public Safety (DPS) Nolan Espinda and Department of Health (DOH) Director Dr. Bruce Anderson will be retiring at the end of September.
"Both directors have served admirably under extremely challenging conditions, especially since the start of the COVID-19 pandemic," said Ige. "I thank them for their many years of service to the people of Hawaii and wish them well as they retire and are able to spend time with their families."
However, State Senator Clarence Nishihara shed a less positive light on Espinda, who oversees state prisons like the Oahu Community Correctional Center in Honolulu, where nearly 300 inmates and 58 staff workers have tested positive for the novel coronavirus in recent weeks.
"Like many across the State, I too have lost faith in DPS and its leadership team's ability to curb the spread of COVID-19 in our prison system," stated the Democratic senator. "From the beginning, Director Espinda and the department were slow to implement proper safety protocols, such as testing for inmates and staff. Serious issues such as lack of personal protective equipment and unsafe conditions for uninfected inmates were never appropriately addressed by Director Espinda."
"This lack of leadership and inability to guide the department through this pandemic has put us in the difficult situation that we find ourselves in today," Nishihara said. "As chair of the Senate Committee on Public Safety, Intergovernmental and Military Affairs, I welcome the opportunity to work with Governor Ige in finding someone who has the qualifications and leadership ability to guide the Department of Public Safety moving forward."
Ige also announced that two women, Maria Cook and Dr. Libby Char, will serve as interim heads of the DPS and DOH, respectively, until permanent replacements are appointed and confirmed.
As of this report, the Aloha State struggles to flatten the curve of COVID-19 cases, which currently stands at 8,472, with over 6,300 in the month of August alone. Seven more deaths have been reported, the most number Hawaii has seen in one day.
(With reports from EBC Hawaii Bureau, Eagle News Service)