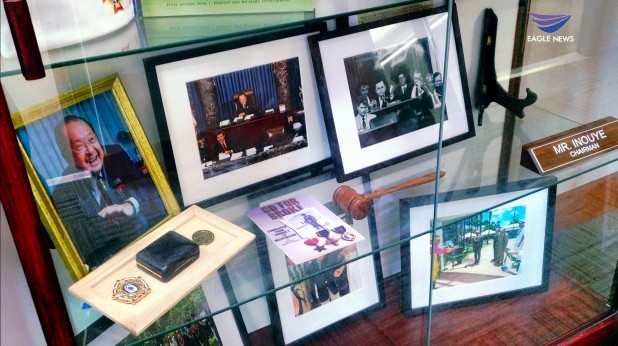 By Alfred Acenas
EBC Hawaii-Pacific Bureau
(Eagle News) – Hawaii Governor David Ige proclaimed April 5, 2021 as "Go For Broke Day" in honor of the thousands of men of Japanese heritage who, despite facing discrimination by the very country they served, sacrificed their lives to secure Allied victory in Southern Europe during World War II.
Following the attack on Pearl Harbor on December 7, 1941, suspicions against Japanese-Americans and Japanese nationals living in the United States were at an all-time high.
Over 100,000 Japanese-Americans living on the west coast were labeled as "enemy aliens" and placed in internment camps due to fear and suspicion of collaboration with the Japanese government.
Despite discrimination, many Japanese-American men were given the opportunity to enlist in the U.S. military. Two Japanese-American combat units were activated: the 100th Infantry Battalion and the 442nd Infantry Regiment.
The 100th was racially segregated unit composed of more than 1,400 second-generation Japanese-Americans known as Nisei.
Due to fear of an additional Japanese attack, the War Department removed the 100th from Hawaii, sending the unit to the U.S. mainland. In June 1942, the men boarded the SS Maui and landed in California five days later, where they were then sent off to different training bases.
In August 1943, the 100th deployed across the Atlantic to the Mediterranean where they took part in the Italian campaign. The men selected the motto "Remember Pearl Harbor," to reflect their anger at the attack on their country.
Following the Italian campaign, in August 1944, the 100th was officially integrated into the 442nd Regiment Combat Team (RCT) and participated in the invasion of Southern France.
The 442nd RCT consisted of multiple units, including three infantry battalions, an artillery battalion, a combat engineer company, an antitank company, a service company, a medical detachment, and a ground forces band.
The motto of the 442nd was "Go For Broke," a phrase that meant putting everything on the line in an effort to win big. Just as other minority groups, Japanese-Americans faced two wars during World War II—war against the Axis powers and war against racism back home—making "Go For Broke" an appropriate motto.
Today, the 442nd is remembered as the most decorated unit for its size and length of service in the history of the U.S. military. The unit that comprised about 18,000 men was awarded over 4,000 Purple Hearts, 4,000 Bronze Stars, 560 Silver Star Medals, seven Presidential Unit Citations, and 21 Medals of Honor. To this day, no other unit of similar size has ever matched the 442nd's record of accomplishments.
(Eagle News Service)