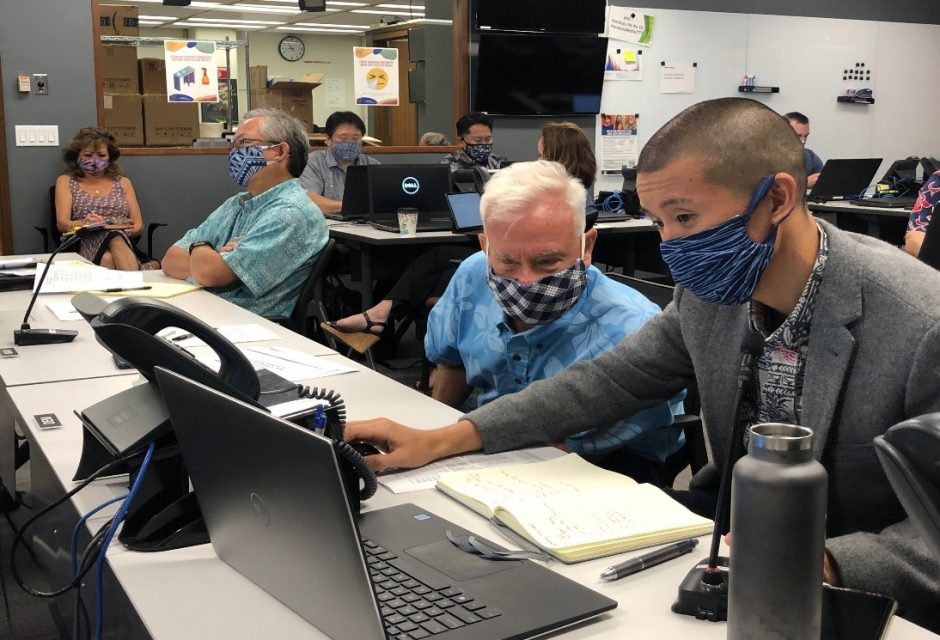 By Alfred Acenas
EBC Hawaii Bureau
HONOLULU (Eagle News) — Mayor Kirk Caldwell gathered directors, deputy directors and staff at the city's Emergency Operations Center (EOC) on Friday, July 24, to discuss the onset of Hurricane Douglas.
In addition, Mayor Caldwell signed an Emergency Proclamation, which authorizes expenditures of funds for a quick and more efficient relief effort ahead of the coming storm and allows changes to the Restore Honolulu Order as a result of the COVID-19 pandemic. For example, indoor gatherings of 50 individuals or more will be allowed as residents may need to seek shelter in a hurricane emergency shelter.
The mayor also activated the city's EOC in order to manage the city's response and coordinate efforts with the state government. The EOC will switch to a 24-hour schedule as the storm approaches Oahu. Depending on the forecast, the City and County of Honolulu will open up to 25 shelters at various locations around Oahu in coordination with the American Red Cross.
"Hurricane Douglas is expected to weaken but remains on track to pose a serious threat to Oahu," said Caldwell. "This weekend, beginning tomorrow night, we could see heavy rain and strong winds. We'll continue to keep our full attention focused on Douglas throughout the evening, and proceed with full activation of the Emergency Operations Center later this weekend. We are asking everyone to pay attention to any alerts overnight. Take the time to check on your loved ones and make sure they have everything they need to remain safe and healthy and please reevaluate your situation often as things may change very quickly over the next few days."
Meanwhile, Oahu residents are strongly encouraged to prepare for strong winds, dangerous surf, heavy rainfall and potential flooding over the weekend.
Earlier, the National Weather Service (NWS) placed Oahu Island under hurricane watch. A hurricane watch means that conditions with sustained winds of 74 miles per hour (119 kilometers per hour) or higher are possible within the specified area. A hurricane watch is issued 48 hours in advance of the anticipated onset of tropical-storm-force winds in an area.
Big Island, Maui, Lanai, and Molokai have since been placed under tropical storm warning.
As of Saturday, July 25, 5:00am Eastern Time, Hurricane Douglas has since weakened from a Category 3 to a Category 2 system with maximum sustained winds of 110 mph (177 kmh) moving west-northwest at a slightly increased velocity of 20 mph (32 kmh).
Hurricane-strength winds can be expected in some parts of the state between late Saturday and Monday (July 27). Large swells will start impacting parts of the state on Saturday while flooding rains could begin late Saturday and continue through Monday in certain areas.
(Eagle News Service)