HONOLULU (Eagle News) – After 11 years of construction, the first phase of Hawaii's $12-billion rail transit system will officially begin interim passenger service on Friday, June 30.
According to Honolulu Mayor Rick Blangiardi, there will be a grand opening event, featuring dignitaries and entertainment, to be held at the Hālawa rail station across the Aloha Stadium complex.
"Today's announcement marks the culmination of decades of hard work, perseverance, and overcoming difficult challenges of every kind," said Blangiardi. "We are all excited for the public to experience first-hand the transformative effect the rail will have for our island home."
The mayor added, "We are turning the page on the largest public works project in Hawaii's history. Residents who have been waiting for so long will finally have the opportunity to board these beautiful trains and ride them for the very first time."

The first phase of the 19-mile (31-kilometer) system covers a roughly 11-mile (17.7-kilometer) stretch between the Kualaka`i Station in East Kapolei and the Hālawa Station in Aiea.
On June 30, the rail system, including bus connections, will be open and free to the general public from 2pm to 6pm.
From July 1 to 4, the service will still be free, but riders will need a prepaid HOLO card to get on.
After the holiday weekend, the system will be operational for paying commuters. A $3 fare for adults will cover the train and connection to new express bus routes. Keiki (children) under 5 years old are free, as long as they are riding with a fare-paying passenger and not occupying a seat.
The rail will operate on weekdays from 5 a.m. to 7 p.m., as well as on weekends and holidays from 8 a.m. to 7 p.m. Transportation officials indicated they plan on extending the operating hours once the rail reaches the Daniel K. Inouye International Airport, possibly in the summer of 2025.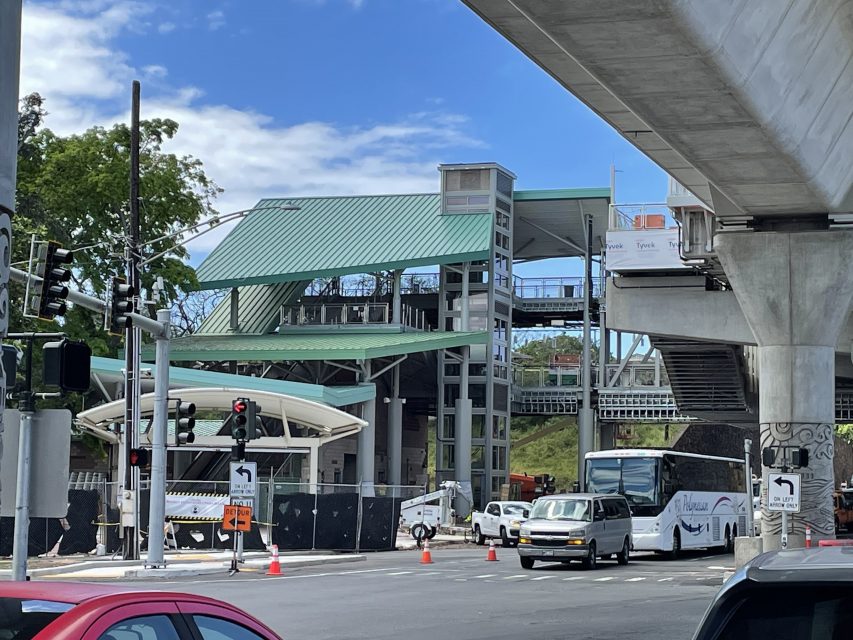 Meanwhile, additional train cars have arrived at Honolulu Harbor this week.
A total of 20 four-car trains are projected to be operational once the service fully opens to the Downtown Honolulu area. Of the 18 trains that are already on Oahu, 12 are fully commissioned and are ready to be handed over to the City's Department of Transportation Services in June.
"After the initial opening of the rail system on June 30, there will be five trains operating during normal service, with additional trains being available as spares or for special needs," said Lori Kahikina, executive director and chief executive officer of the Honolulu Authority for Rapid Transportation (HART). "When the next segment of the rail system opens to the public in about two years, more trains will be used in daily operations."
Each four-car driverless train is air conditioned and can accommodate up to 800 passengers, the equivalent of team city buses. Open gangways allow for ease of travel between cars.
The trains are also compliant with Americans with Disabilities Act (ADA) guidance with priority areas for wheelchairs. Surfboard, bicycle, and luggage storage areas are located within each car, and there are also areas available for strollers.
(Alfred Acenas, Hawaii-Pacific Bureau, Eagle News Service)