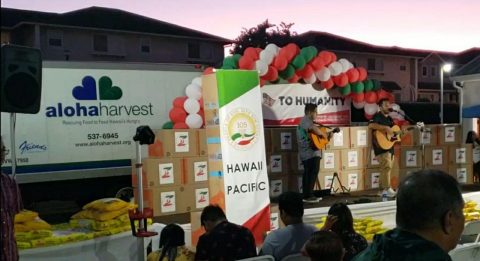 By Alfred Acenas
EBC Hawaii Bureau
HONOLULU, HAWAII (Eagle News) – Mayor Kirk Caldwell, along with nonprofit organization Aloha Harvest and other volunteer groups, worked together this past weekend at the Waipio Soccer Complex in Central Oahu to distribute 1,000 "Stew in a Bag" grocery kits to newly unemployed households. The bags brimmed with seven tons of locally sourced produce, meat, 34,560 eggs and everything needed for a recipe of local stew good for 10,000 meals.
"Today has shown there's a tremendous need. They are our family, our friends, our neighbors and I couldn't be prouder to be out here today serving those that have given so much to our community," said Mayor Caldwell as he loaded bags in car trunks that snaked throughout the parking lot and roadways.
Those who came after the food was distributed were given gift cards courtesy of local supermarket chain Foodland.
"Aloha Harvest was grateful to partner with the city in distributing food," said the nonprofit's Executive Director Phil Acosta. "Mahalo to all the volunteers who helped with this massive effort. We are standing by, ready to serve our community, and looking forward to collaborating with the city in the future."
As the City and County of Honolulu announced last week, it will be launching an eight-week food drive effort beginning on Thursday, April 30, through a collaboration with the Foodbank of Hawaii, Hawaii Community Foundation and Bank of Hawaii in order to serve an estimated 4,000 households twice weekly.
Aloha Harvest is a nonprofit organization that rescues quality donated food and delivers it free of charge to social service agencies that feed hungry people throughout the Aloha State. In March, as numerous events statewide were cancelled or postponed due to the novel coronavirus 2019 (COVID-19) outbreak resulting in the potential waste of large quantities of food already procured or prepared, Aloha Harvest managed to rescue and distribute 265,149 pounds (about 120,270 kilograms) of food, more than double the quantity it handled in March 2019.
(Eagle News Service)