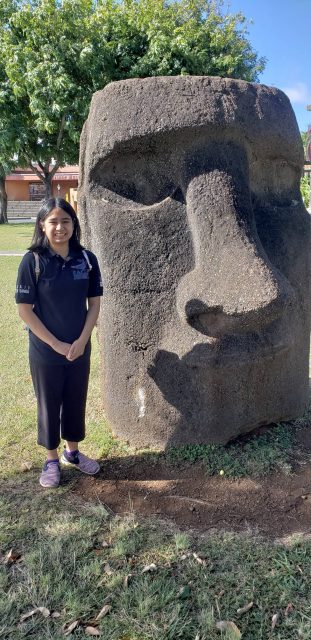 By Alfred Acenas
EBC Hawaii Bureau
HONOLULU (Eagle News) – Complying with the latest mandates by the State Government and the City-County of Honolulu, the Bernice Pauahi Bishop Museum reopened its doors on Friday, June 19, after being closed since March due to the COVID-19 outbreak in Hawaii. Initially opening to its members, the museum will be opening to the general public on the following Friday, June 26. It will also offer free admission for keiki (children), for kamaʻāina (local residents with State-issued identification) families and for military families from June 26 to July 5.
"We're very happy to be welcoming our community back to Bishop Museum," said Melanie Ide, the museum's president & chief executive officer (CEO). "Health and safety continue to be our highest priority and all staff are prepared to institute and monitor safe practices. We recognize that many families are eager to get outdoors and off screens to break the usual routine, and we want to provide a safe and enriching outlet for this. We're looking at new ways to interpret our gardens and historic grounds, bringing in partners to engage visitors in their work, and getting more shade for people to relax, picnic, or just watch their kids from a safe distance."
In the coming months, the Bishop Museum will also be launching new "Outdoor Museum" experiences, a selection of offerings, activities and events that will allow visitors opportunities to learn, play and enjoy being outdoors on the museum's 15-acre (2-hectare) park-like campus.
To keep safety as a top priority, patrons entering the museum campus will be required to wear a facemask at all times, practice social distancing of at least 6 feet (almost 2 meters) and will be encouraged to practice good hand hygiene by frequently washing their hands for at least 20 seconds and using hand sanitizers.
In addition, daily capacity has been limited to no more than 500 people, and visitors are strongly encouraged to purchase their tickets online for a designated time slot, which helps to limit person-to-person contact with staff and to manage museum capacity. Staff have increased the frequency of cleaning and disinfecting across the campus, installed additional hand sanitizing stations as well as new outdoor hand washing stations and installed Plexiglass shields at the admissions desk and at the Bishop Museum Café.
Detailed information on the museum's safety protocols is available at the website www.BishopMuseum.org/COVID19.
Located in Honolulu's Kalihi neighborhood, the Bishop Museum was founded in 1889 by Charles Reed Bishop in memory of his wife Bernice Pauahi Bishop, a royal descendant of Hawaii's first monarch, King Kamehameha I.
The museum is widely regarded as the world's premier institute containing Hawaiian and Pacific primary source material. Its collections tell the stories of the cultures and biodiversity of Hawaii and the Pacific, as well as the proud legacy of scholarly research spanning 130 years.
The Bishop Museum serves more than 200,000 visitors each year, including 20,000 children on school visits.
(Eagle News Service)