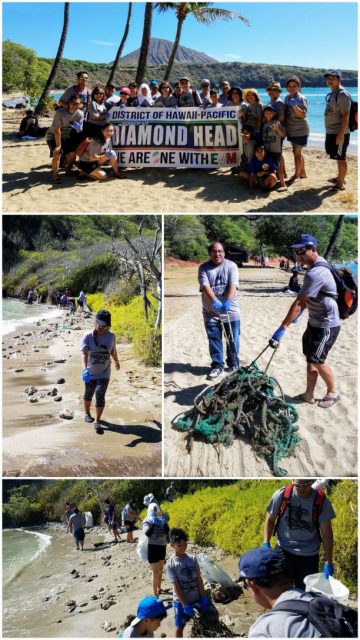 HONOLULU (Eagle News) – The Hanauma Bay Nature Preserve located in East Oahu reopened on Wednesday, December 2 after being closed for months as a precaution due to the novel coronavirus (COVID-19) pandemic.
"We are thrilled to be able to invite the public back to one of the most spectacular features on Oahu, while modifying how we manage this nature preserve to keep it thriving for generations to come," said Honolulu Mayor Kirk Caldwell. "All of these measures are in place to balance conservation efforts, safety of the public and staff, and the ability to responsibly enjoy this world class environmental feature. We appreciate everyone's patience as we implement these new procedures."
"As a fiscally responsible nature preserve, Hanauma Bay has served as an amazing model of how to focus on both the recreational needs of the community and the conservation of its natural resources," said Michele Nekota, Director of the Department of Parks and Recreation. "We see these new operations as a pilot program, which we hope can improve efforts to learn from, enjoy, and maintain Hanauma Bay in this pandemic era."
A historically significant location for Native Hawaiian paddlers, as well as a one-time favorite fishing spot for some members of the Hawaiian royalty, Hanauma Bay was designated as the state's first Marine Life Conservation District in 1967.
Its popularity grew in the 1970s and 1980s when visitor attendance peaked at an estimated 10,000 people a day. A management plan implemented in 1990 helped to mitigate this human impact by reducing visitation, improving facilities, banning the feeding of fish, and educating bay visitors. In 2019, average daily attendance was almost 3,000 people, with nearly 845,000 tourists and residents visiting the nature preserve that year.
Hanauma Bay was initially closed on March 18, 2020, in response to the outbreak of COVID-19 in the Aloha State. Since that time, only researchers and officials have been provided access to the nature preserve.
The closure may have resulted in zero revenue from ticket sales to sustain daily operations. However, the reduced human activity has also allowed clearer water and larger fish to return.
As part of the reopening pilot program with respect to COVID-19 restrictions, the City and County of Honolulu has made numerous modifications to Hanauma Bay's operations, which are listed in http://www.honolulu.gov/parks-hbay/home.html
(With reports from EBC Hawaii Bureau, Eagle News Service)