HONOLULU (Eagle News) – Whether as queens or princesses, the women of Hawaii's royal court made history in their own right, rivaling their 19th century European counterparts. Here are just some of those women who left their legacies that still exist today.
PRINCESS BERNICE PAUAHI BISHOP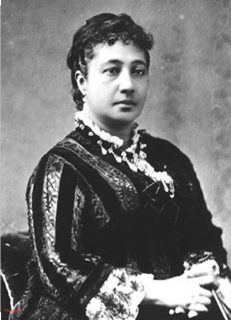 Born on December 19, 1831 in Honolulu, Bernice Pauahi Pākī was the great-granddaughter of the kingdom's first monarch, Kamehameha the Great. Reared with strong Hawaiian values and a bicultural education, she was an excellent student who was also gifted in music.
At 18, Princess Pauahi married Charles Reed Bishop, a young American businessman from Glens Falls, New York. Charles became a pillar in the kingdom's government and economy, most notably in the establishment of what is now First Hawaiian Bank, as well as a trust for several charitable organizations and the Princess Bernice Pauahi Bishop Museum, Hawaii's largest museum.
Pauahi witnessed the rapid decline of the Native Hawaiian population from 124,000 when she was born down to just around 44,000 in 1883. Along with the decline came the gradual loss of Hawaiian language, culture, and traditions.
Believing that education would offer her people hope and a future, Princess Pauahi left her estate, about nine percent of the total acreage of the Hawaiian kingdom, towards the creation of the Kamehameha Schools system, now consisting of campuses in Oahu, Maui, and Big Island.
The estate comprised some 151,959 hectares (375,500 acres) assessed back then at $474,000, equivalent to over $11 billion today.
QUEEN EMMA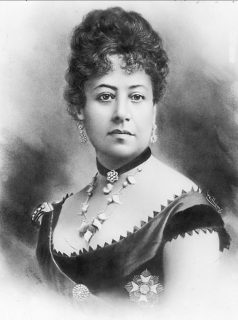 Emma Kalanikaumakaamano Kaleleonālani Na'ea Rooke was born on January 2, 1836. Like her cousin Princess Pauahi, Emma was exposed to European, American and Hawaiian cultures. By the time she was 20, she was well-known for her talents in music and equestrian.
In 1856, Princess Emma married Alexander Liholiho, who a year earlier would assume the throne as King Kamehameha IV.
Dedicated to health care and education, she and her husband founded Queen's Hospital in 1859, later to become The Queen's Medical Center currently located in Downtown Honolulu. In order to build the hospital, the royal couple personally went door to door to solicit funds, as well as made their own contributions.
In addition, Queen Emma and Great Britain's Queen Victoria became close friends in their later years, both having shared experiences of losing their spouses and children.
QUEEN KAPIʻOLANI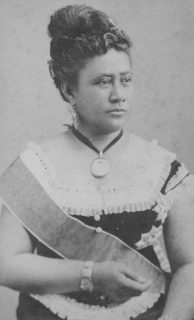 Julia Na-pela-kapu-o-Kakaʻe Kapi'olani was born on December 31, 1834 in Hilo, Big Island.
She married David Kalākaua in 1863. Kalākaua was later elected to replace the deceased King Lunalilo in 1874, making Kapiʻolani the Queen Consort.
Kapiʻolani was a visible monarch, often traveling throughout the kingdom and around the world.
In 1887, she sailed to England to attend Queen Victoria's Golden Jubilee celebrations.
Queen Kapiʻolani also made headlines when President and Mrs. Grover Cleveland hosted a formal state dinner at the White House in her honor.
She even visited schools, hospitals and other public institutions in San Francisco, Washington D.C, Boston and New York. As the first queen to visit the United States, her activities received extensive coverage by various U.S. newspapers.
In 1890, she established the Kapiʻolani Maternity Home, which is today the Kapiʻolani Medical Center for Women and Children in Honolulu.
Upon the untimely death of her husband in 1891, Queen Kapiʻolani retired in Waikiki, giving way to Lili'uokalani as Hawaii's next sovereign.
Kapi'olani passed away in 1899, after having personally witnessed the overthrow of the monarchy by the United States six years earlier.
(Eagle News Service)