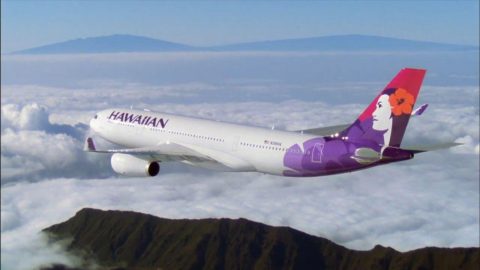 By Alfred Acenas
EBC Hawaii Bureau
HONOLULU (Eagle News) – Hawaiian Holdings, Inc. (NASDAQ: HA), the parent company of Hawaiian Airlines, released on Tuesday, May 5, its financial status report for the first quarter of 2020. As expected, the shutdown of the state's tourism industry due to the novel coronavirus 2019 (COVID-19) pandemic took a heavy toll on Hawaii's largest air passenger carrier, which reported a net loss of more than $144 million for January-March 2020. The company enjoyed a net income of $36.4 million during the same period in 2019.
"The first quarter of 2020 brought dramatic change to the global aviation industry as COVID-19 spread across the globe. Our first quarter results reflect the sharp drop in demand experienced initially on our South Korea and Japan routes in February, and across our entire network in March," said Peter Ingram, Hawaiian Airlines president and chief executive officer. "With such profound changes to our business, our focus has pivoted to sustaining a limited operation, enhancing liquidity, preserving cash, and preparing for a new reality as we begin to emerge from the pandemic in the weeks ahead. Through all of these challenges, I have never been prouder of my 7,500 colleagues who reflect our values everyday as they care for our guests and the communities we serve and live in."
Events that contributed to Hawaiian's losses included the suspension of service to South Korea in late February; another suspension of routes between Australia and New Zealand in mid-March; and a reduction of its schedule by 95% in the last week of March due to the State of Hawaii's mandate for 14-day self-quarantine for all incoming and Neighbor-Island travelers.
As for the April-June 2020 outlook, Hawaiian Airlines is unable to provide any details on its expectations due to the uncertainties involving current and possible relaxation of travel and quarantine restrictions.
Its April capacity, in terms of available seat miles (ASMs), was approximately 94% below the capacity flown in April 2019. The air carrier also expects May 2020 capacity to decrease by 91% compared to the same period last year.
As a significant portion of the company's costs are fixed, Hawaiian reported that operating expenses are not expected to decline at the same pace as the capacity decline.
Meanwhile, Hawaiian Airlines has been projected to receive approximately $654 million in federal aid from the Coronavirus Aid, Relief, and Economic Security (CARES) Act, which was passed into law in late March. A final decision on this plan is still forthcoming.
(Eagle News Service)