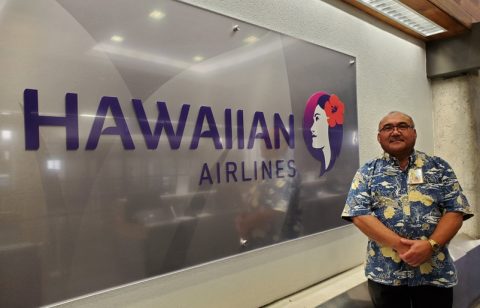 By Alfred Acenas
EBC Hawaii Bureau
HONOLULU (Eagle News) – After suspending numerous routes and temporarily retiring most of its fleet, Hawaiian Airlines (HA) has had to rethink every aspect of its daily operations while continuing to protect the health and safety of its customers and employees during and long after the COVID-19 pandemic.
"We implemented additional health and safety directives and have had to get creative as we adjust to a severely reduced network, new cost-savings measures and the state's travel quarantine orders," said Mike Navares, HA managing director of airport operations based at Honolulu's Daniel K. Inouye International Airport (HNL).
Some changes that his team had to make at HNL include:
posting signs about social distancing and mask requirements in the lobbies, gates, jet bridges, and guest service areas;
applying floor tape in HNL's various waiting areas to help guests maintain six-foot (2-meter) spacing;
requiring guest-facing employees to wear face masks and gloves throughout their shift and frequently disinfecting kiosks, work areas, and counters;
working with aircraft appearance team to implement enhanced cleaning procedures, including electrostatic spraying of cabins for additional disinfection; and
expanding upgraded cleaning procedures to HA's employee gathering spaces, restrooms, and breakrooms at HNL.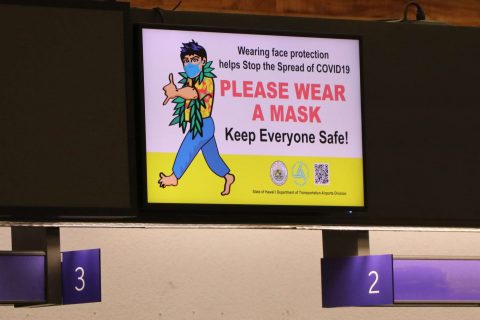 "My team has been working with county, state, and federal agencies as we all adapt to the situation," Navares said. "Before the pandemic, we were working out of Lobbies 2 and 3 in Terminal 1 and Lobby 4 in Terminal 2 to accommodate guests traveling on our approximately 180 daily flights departing HNL during our peak period."
Naveres continued, "Given our significantly reduced flying, we've moved all operations to Lobby 2 and worked with the Transportation Security Administration (TSA) and the Hawaii State Department of Transportation Airports Division (HIDOTA) to keep at least one screening checkpoint and bag inspection room open.
"We've also had to find ways to save on costs," said Navares. "In addition to consolidating our lobby operations, we reduced the frequency of our once-busy employee shuttle service and temporarily suspended operations at the Makai Pier (Gates B1-5) to minimize lease and utility expenses."
He went on, "Until the state is prepared to welcome visitors back to the Hawaiian Islands, my team at HNL will continue to pivot as necessary."
Navares concluded while airing a positive outlook, "I feel very fortunate to have a great team and tremendous leaders who continue to guide us through all the challenges, changes, and the 'new normal.' We are one 'ohana' [Hawaiian for "family"] and a unified company with a strong tradition of overcoming obstacles."
Earlier this week, Hawaiian Airlines employees participated in a mock departing flight to gave their management a chance to review and refine procedures that passengers and staff may encounter on an inter-island trip once the self-quarantine requirement is lifted on June 16.
(Eagle News Service)