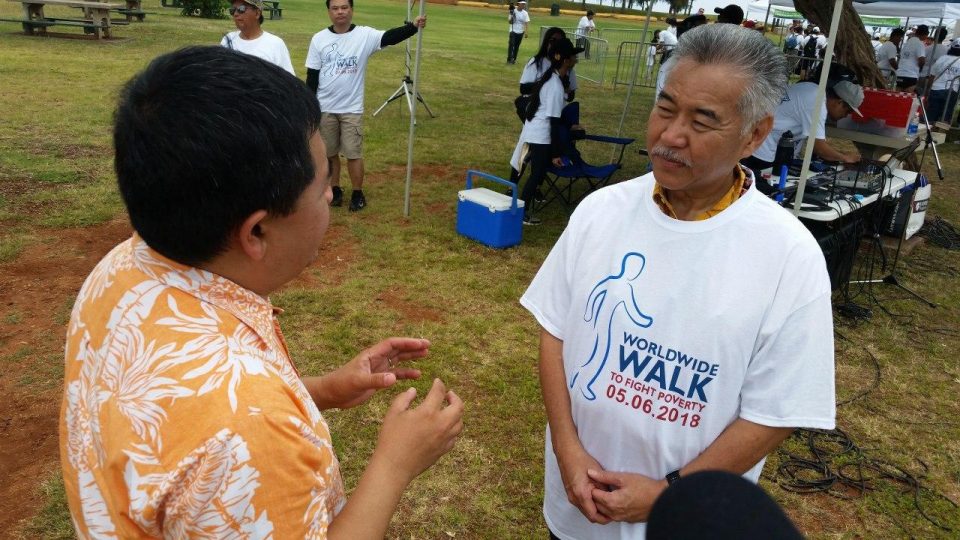 By Alfred Acenas
EBC Hawaii Bureau
HONOLULU, Hawaii (Eagle News) – Beginning on Thursday, 26 March, all travelers bound for Hawaii, whether by air or sea, whether visitor or returning resident, will undergo a mandatory 14-day self-quarantine. Hawaii Governor David Ige made the announcement during a press conference at the State Capitol Building Rotunda in downtown Honolulu on Saturday, 21 March. Other key leaders in attendance included Honolulu Mayor Kirk Caldwell; Director of the Hawaii Emergency Management Agency (HIEMA) US Army Major General Kenneth Hara; Hawaiian Airlines President Peter Ingram; and President of the Hawaii Lodging and Tourism Association (HLTA) Mufi Hannemann.
"This mandate is the first of its kind in the nation," Ige said. "We want this action to send the message to visitors and residents alike that we appreciate their love for Hawaii, but we are asking them to postpone their visit."
On Tuesday, 17 March, the governor encouraged visitors to postpone their travel to Hawaii for 30 days, pursuant of slowing the spread of the virus in the islands.
"With the majority of Hawaiʻi's COVID19 cases linked to travel, it is critical that we further mitigate the spread of the virus by both residents and visitors who are coming from out-of-state," said the governor.
Ige acknowledged the economic impact of this action in favor of the health and safety of everyone in the Aloha State. He assured everyone that "this plan was developed in collaboration with our county mayors and Hawaiʻi's business, community and visitor industry leaders."
During the question-and-answer session with the media, Governor Ige explained that the intent behind implementing the self-quarantine at a later date instead of sooner is to give all travelers, airlines, hotels, law enforcement, and other stakeholders ample time to adjust their plans and procedures.
Guidelines for the 14-day mandatory self-quarantine included the following:
1. Travelers will be required to remain inside their rooms at their respective hotels while residents will remain in their homes for the required duration. If visitors plan to stay less than 14 days, they will stay quarantined that whole time until their departure.
2. Travelers will be responsible for any cost associated with the quarantine.
3. The mandate will not apply to emergency responders and other essential workers, including those who are responding to the COVID19 pandemic. It will also not apply to flight crews.
4. The rule will not apply to any of the visitors already in Hawaii.
When asked why a border closure for the entire State was not chosen, Ige indicated the self-quarantine option as sufficient in preventing the further spread of the virus.
According to Mayor Caldwell, the self-quarantine rule will be enforced in all four counties; violations thereof will be treated as misdemeanors and subject to fines of up to $5,000 and/or one year in prison.
Meanwhile, the beach resort at Ko Olina in West Oahu, together with its hotels such as Disney's Aulani Resort & Spa and the Four Seasons, will close on Tuesday, March 24. Hale Koa Hotel in Waikiki announced its closure earlier in the week.
According to the Hawaii Department of Health's (DOH) dedicated website hawaiicovid19.com, there are 48 confirmed cases, up from 37 in the previous day. There are currently 35 cases in Oahu, 3 in Kauai, 7 in Maui, and 3 in Big Island. Among those tested positive is a US Army Soldier assigned to the 25th Infantry Division headquartered at Schofield Barracks in Central Oahu; the Soldier traveled to Las Vegas between 13 to 15 March and was tested positive on 20 March.
(Eagle News Service)