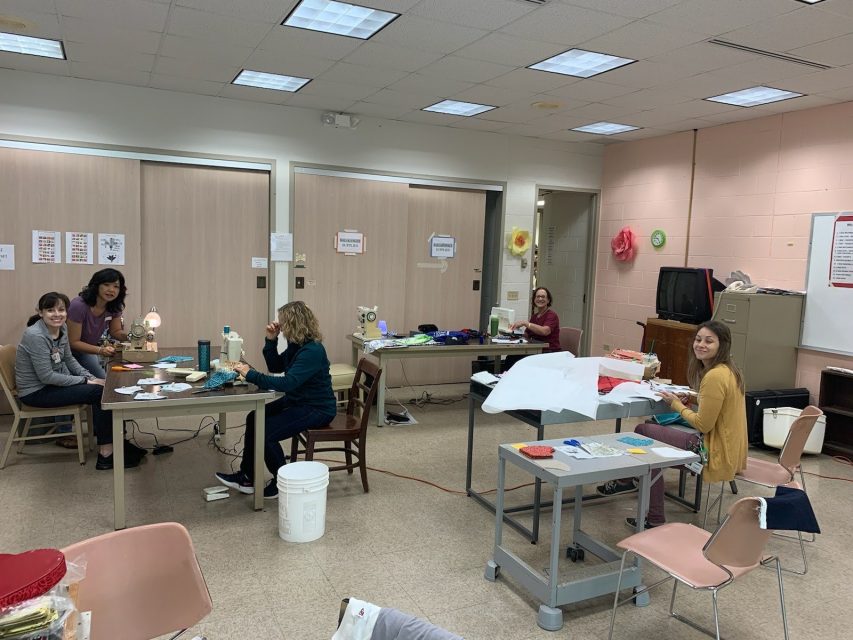 By Alfred Acenas
EBC Hawaii Bureau
HONOLULU (Eagle News) – Since the beginning of March, the Occupational Therapy Department (OT) team at the Hawaii State Hospital (HSH) has been working diligently and tirelessly sewing protective face masks and making face shields for the other hospital staff and patients.
Recognizing early on the need for HSH staff to have enough protective face masks ready to protect themselves and patients in anticipation of possible community spread of the novel coronavirus 2019 (COVID-19), the team responded immediately. .
HSH Chief of Occupational Therapy Laura Adams-Shimabukuro proudly credits occupational therapy assistant Jo-Lynn Chong with getting the masks rolling. Chong watched YouTube videos on crafting cloth masks and found a great tip that aluminum pans could be cut up and used for nose pieces.
She next found a face mask pattern, practiced getting her mask technique perfect before teaching the rest of the staff, and with the help of staff and community donations of fabric, thread, interfacing, elastic, and foil pans (the last of these donated by the HSH kitchen), launched the OT team's mask-making work.
The OT department put kits together, cut out patterns, ironed, and sewed. Others worked together to make homemade face shields.
Through March and April, the OT staff dedicated up to 10 hours a day sewing masks. They've since slowed down a bit but still spend a good part of their days sewing away.
A few weeks ago, they even started sewing face masks with modifications with patient safety in mind. These masks have no foil nose pieces and have ear loops instead of ties.
Adams-Shimabukuro reports that the OT team has crafted more than a thousand face masks and about 60 face shields to date, calling it "a great department effort where everyone pitched in with some aspect of the making of face masks."
She adds that the team "plans to keep sewing the masks in anticipation of continued need, especially if there are additional 'waves' of the epidemic."
Her overriding hope for the extra masks, despite all of the department's cutting and sewing, has a more positive silver lining.
"We hope we'll have hundreds of masks that will not be needed," said the OT chief.
Located in Kaneohe on Oahu's windward coast, the Hawaii State Hospital is a state-run facility that provides inpatient psychiatric services for court-ordered individuals within a safe and therapeutic environment.
(Eagle News Service)