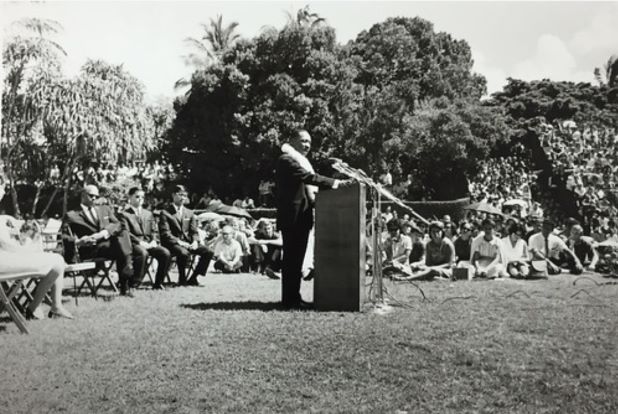 HONOLULU (Eagle News) – On February 19, 1964, civil rights leader Dr. Martin Luther King, Jr. delivered a speech to University of Hawaii (UH) students, faculty, and staff, along with community members at Andrews Outdoor Theatre in Honolulu.
According to the local newspaper, about 10,000 jammed the seats of the amphitheater before filling the grass in the center and spilling over onto the lawn outside the wall, all to hear Dr. King speak on the subject of "Progress Toward Desegregation."
During Civil Rights Week sponsored by the university, Dr. King and leaders from several national civil rights groups delivered a series of speeches on campus to talk about their solutions to the problems of racial inequality throughout the U.S. during their time, pursuant to igniting concern in the community towards effective programs that could help eradicate the remnants of racial inequality.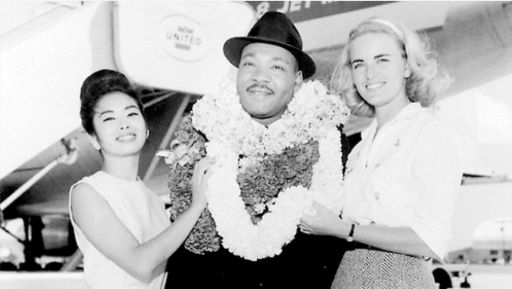 Other distinguished guests included John Ali, national secretary of the Black Muslims; James Farmer, national director for the Congress of Racial Equality (CORE); and W. J. Simmons, editor of "The Citizen," an official Journal of the Citizens Council of America.
In their own way, the speakers encouraged Hawaii to become a leader in the drive to extend civil rights and equality on all levels to everyone. Dr. King in particular remarked, "I believe that deep down within our nation, in spite of difficulties, there is a desire to move toward integration."
The 35-year old Atlanta native ended with a message of hope that he and other civil rights workers hasten the day when the brotherhood of men becomes a reality.
The Civil Rights Act was finally signed into law by President Lyndon B. Johnson at the White House in Washington, D.C. on July 2, 1964.
Dr. Martin Luther King, Jr. was killed in an assassination in Memphis, Tennessee on April 4, 1968.
(Eagle News Service)