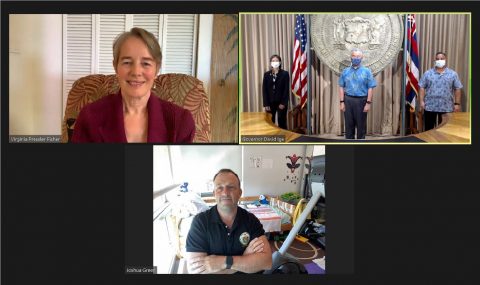 HONOLULU (Eagle News) – Hawaii Governor David Ige announced plans for a pre-travel testing program that gives travelers the option of avoiding the current mandatory self-quarantine upon their arrival. The testing option is scheduled to take effect on October 15.
The governor believes this is important for revitalizing Hawaii's visitor-centric economy, while providing protection for the spread of COVID-19.
Key components of the pre-travel testing program include the following (not all inclusive):
All travelers to Hawaii must either pre-test or undergo a 14-day self-quarantine upon arrival.
All travelers are required to have their temperature checked, and must complete a health and travel questionnaire.
As an alternative to the 14-day quarantine, travelers must produce evidence of a negative COVID-19 test no earlier than 72 hours prior to their arrival in Hawaii.
Federal-approved Nucleic Acid Amplification Tests (NAAT), processed by a CLIA-certified laboratory are the only types of coronavirus tests currently approved.
The inter-island quarantine requirement for those arriving on any island other than Oahu will continue through September 30, unless terminated or extended by a separate emergency proclamation.
Ige has also announced a new leadership team that will oversee the state's public health response to COVID-19 and the pre-travel testing program.
"This new leadership team gives us a stronger operational structure, stronger leadership, and clears the way for stronger partnerships between the public and private sectors," said the governor.
The team includes U.S. Army Major General Ken Hara, Director of the Hawaii Emergency Management Agency (HIEMA); Dr. Libby Char, the new Director of Hawaii's Department of Health (DOH); Lieutenant Governor (Dr.) Josh Green and Dr. Virginia Pressler, a former DOH director.
"Together with the progress we've made, and continue to make, in the fight against COVID-19, this new leadership team gives us confidence that the time is right to launch our pre-travel COVID-19 testing program, which is an important step toward reviving our economy while continuing to protect public health," Ige said.
The state government had originally planned to start the pre-travel testing program on September 1 but had to postpone as Hawaii was experiencing a surge of new COVID-19 cases in triple digits in August. More than 6,300 new infections were reported last month alone, over half of the current statewide total of 11,105 cases.
(With reports from EBC Hawaii Bureau, Eagle News Service)