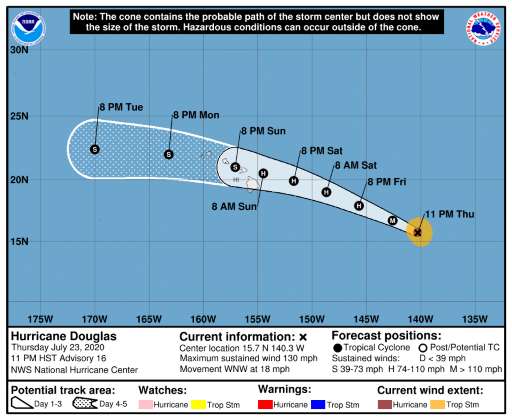 By Alfred Acenas
EBC Hawaii Bureau
HONOLULU (Eagle News) – Governor David Ige issued on Thursday, July 23, a pre-landfall emergency proclamation as the entire State of Hawaii prepares for possible impacts from Hurricane Douglas, which the National Weather Service (NWS) elevated as a Category 4 storm system at the time. The proclamation authorizes the expenditure of state funds for the quick and efficient relief of disaster-related damage, losses and suffering that may result from the storm.
"Our top priority is always the safety, health, and well-being of our residents and visitors. Please take immediate steps to protect your families, loved ones, employees and property," said Ige. "We ask everyone to closely follow emergency instructions as we prepare for Hurricane Douglas."
The disaster emergency relief period begins immediately and continues through July 31, 2020. For the latest information from the Hawai'i Emergency Management Agency (HIEMA) please go to any of the following:
http://www.ready.hawaii.gov
Twitter: @Hawaii_EMA
Facebook: @HawaiiEMA
Instagram: Hawaii_EMA
YouTube: Hawaii Emergency Management Agency
Linkedin: Hawaii Emergency Management Agency
As of Friday, July 24, 5:00am Eastern Time, Hurricane Douglas is still a Category 4 system with maximum sustained winds of 130 miles per hour (209 kilometers per hour) moving west-northwest at 18 miles per hour (29 kilometers per hour).
There is an increasing chance that strong winds, dangerous surf and heavy rainfall could affect portions of the state beginning on the evening of Saturday (July 25) based on the latest forecast from the National Hurricane Center.
The earliest reasonable arrival time of tropical storm force wind speeds based on this forecast is Saturday night into Sunday morning for the eastern end of the state (Big Island) and through the day Sunday and Sunday night for the western end (Kauai). Hurricane watches for the Big Island and Maui County will be likely early on Friday.
(Eagle News Service)