HONOLULU (Eagle News) – March 15 marks the 100th day in office for Josh Green, M.D. as Hawaii's governor. He recently appeared on social media to highlight several events and achievements so far under his watch.
On December 19, Green released $50 million in grants to nonprofit communities. He described that, because the said grants were previously delayed, he worked closely with his cabinet to prioritize the release of funds to the nonprofits, which included the Hawaii Food Bank and Hawaii Agricultural Foundation.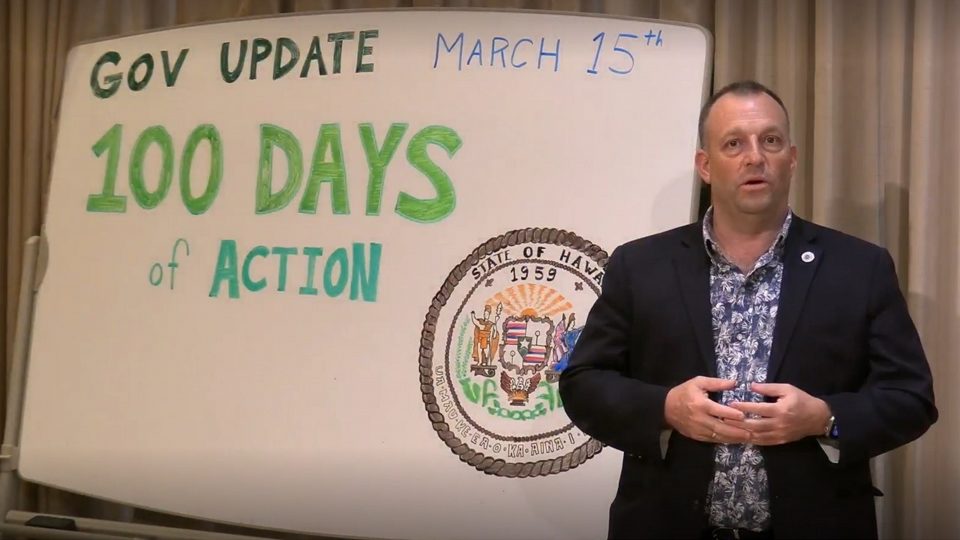 Through an emergency proclamation, Green was personally involved in ensuring that emergency, life-saving flight services to and from Oahu would continue without disruption, especially after a medical service aircraft crashed late last year in the waters between Maui and Big Island, claiming the lives onboard.
"We lost three people that we love and respect. But we had to keep our system together to get sick people from the Neighbor Islands to Oahu," said Governor Green. "So we empowered the National Guard and the Coast Guard to make sure our system stayed intact, and we've rebuilt it."
On his 50th day in office, Hawaii's chief executive signed another proclamation to initiate the streamlining of select housing projects, pursuant in dealing with the homeless crisis that has already affected all the islands. One example he cited was the Kauhale housing project on Big Island, which Green hoped to be the first of up to 15 more villages to be built during his term.
Acknowledging the recent scandals involving corruption by state and county officials, Green promises more transparency in his administration and to restore the people's trust in government. Currently, his office is pushing legislation to decrease the cost of access to official documents and records, while holding the Office of Information Practices to a higher standard of producing the public's requests for information in a more timely manner.
The governor has also invested $100 million for his climate agenda, which includes establishing a Climate Change Commission to be co-chaired by select cabinet leaders, while allocating another hundred million to combat food insecurity.
As a way for Hawaii's residents to make ends meet amid the increasing cost of living, Green launched the Green Affordability Plan (GAP).
"This plan will put thousands of dollars per-year back into the pockets of working families, money that will be pumped back into local businesses and create local jobs," said the 53-year old native of Big Island.
Other matters that his administration continues to work with include building the new Aloha Stadium, as well as resolving the water contamination crisis and defueling operations at Red Hill near Pearl Harbor.
Green previously served as lieutenant governor during his predecessor David Ige's second term, before taking oath as Hawaii's ninth state governor on December 5, 2022.
(Alfred Acenas, Hawaii-Pacific Bureau, Eagle News Service)