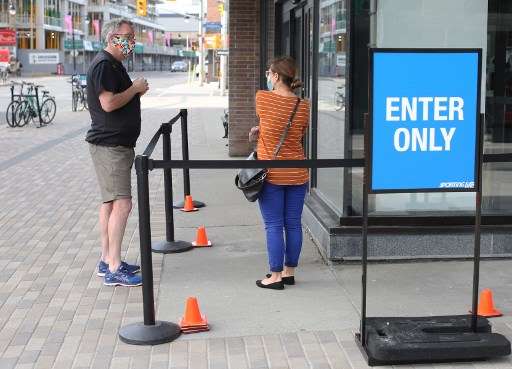 By Thomas I. Likness
EBC Edmonton Bureau
EDMONTON (Eagle News) — Enforcement of COVID-19 restrictions in Canada has been called "an ugly ticketing pandemic" in a study released by the Canadian Civil Liberties Association.
Canadians were fined about $13 million dollars according to the study, entitled "Stay off the Grass: Covid-19 and Law Enforcement in Canada."
"Many of the laws were overly broad, vague and confusing," the study's authors wrote.
It found 98% of the fines handed out were issued in just three provinces — Quebec, Ontario and Nova Scotia.
The association said 10,000 tickets were issued in a 10-week period between April 1 and June 15.
The civil liberties watchdog said it heard from many Canadians who received hefty fines for minor violations.
Examples included standing three feet inside an unmarked and unfenced soccer field, having a child run ahead and jump up on a park bench for a few seconds, or walking alone on a path that the municipality had specifically flagged as open, only to receive a ticket when a police officer disagreed on the legal interpretation.
Multiple individuals recounted tickets being issued for walking or running, alone, through open parks.
Data from other jurisdictions around the world has made it clear that long-standing discriminatory patterns of policing are being reproduced in the context of COVID-19 enforcement, the report said.
"Numerous individuals who got in touch with CCLA and self-identified as racialized felt that they had been targeted by law enforcement because of their race," the report noted. "The pandemic has also been used as a justification to increase the ability of a variety of law enforcement officials to stop individuals and demand that they provide identification, a practice also known as "carding."
The report said the unclear and complex nature of the underlying orders has been particularly hard for those who do not speak English as their first language, including refugees and recent immigrants.
"Trying to police our way out of this pandemic is unimaginative, sometimes unconstitutional, and ineffective," the report concluded.
(Eagle News Service)