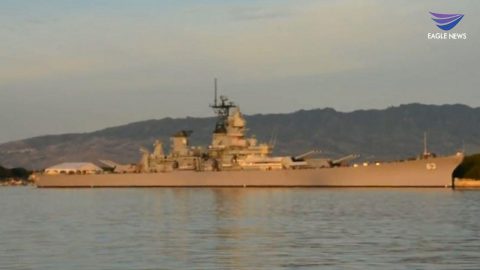 By Alfred Acenas
EBC Hawaii Bureau
PEARL HARBOR, Hawaii (Eagle News) – The year 2020 marks the 75th Commemoration of the End of World War II. America's involvement in this global conflict began with the December 7, 1941 attack on Pearl Harbor, Hawaii and ended with the signing of the instrument of surrender on the decks of the battleship USS Missouri.
The theme for this historic tribute is "Salute Their Service, Honor Their Hope," providing the foundation for programs and events to pay tribute to the "Greatest Generation" for restoring peace to the world.
Due to the novel coronavirus 2019 (COVID-19) crisis in the US, events originally planned for May in Washington, D.C. have been rescheduled to September 24-27, to commemorate the end of the war in Europe.
Events in Hawaii are currently planned from August 29 to September 2, which marks the actual day of Japan's surrender and the end of World War II. They include (but are not limited to) tours and social functions at the Pearl Harbor Aviation Museum, an official commemoration and wreath-laying ceremony at the battleship Missouri memorial, as well as a parade through Waikiki.
Organizers hope to engage the Hawaii community and visitors in remembering and honoring those who served and continue to serve, while highlighting the strategic role of Hawaii in the defense of the United States then and now.
Honorary co-chairs of the national 75th WWII Commemoration Committee, Senators Bob and Elizabeth Dole, joined by Linda Hope, who represents the Bob Hope Legacy as part of the Bob and Dolores Hope Foundation, the Presenting Sponsor of the 75th WWII Commemoration, expressed their support for the upcoming events in Hawaii and Washington, DC.
"These events will preserve our nation's memory of a time when the United States persevered with selflessness and courage in the face of tyranny," the Doles and Hope wrote in a public letter. "The events… may be our last opportunity to honor the service and sacrifice of our veterans and our heroes, celebrating the impact they had on our lives. The accomplishments of the 'Greatest Generation' are too valuable to forget. Together, we can preserve the legacy of World War II and remind our nation of what can be achieved by the American spirit."
Meanwhile, Hawaii Governor David Ige emphasized in a State proclamation the importance of "educating future generations of their responsibility to carry forward the legacy of the men and women who served" in the so-called bloodiest conflict in history.
According to the US Department of Veterans Affairs as of 2019, only less than 390,000 (of the 16 million Americans who served in World War II) are still living.
(Eagle News Service)