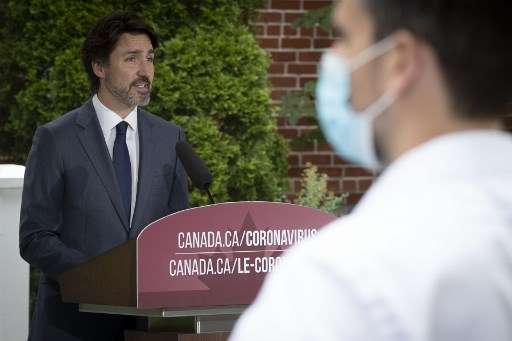 By Thomas I. Likness
EBC Edmonton Bureau
EDMONTON (Eagle News) — The number of COVID-19 deaths in Canadian nursing homes is twice what it is in other developed country, according to a study by the Canadian Institute for Health Information.
The study notes 81% of all reported COVID-19 deaths in the country were people who lived in long term care facilities. That compares to an average of 42% in 16 other countries studied.
The proportion of long-term care deaths ranged from less than 10% in Slovenia and Hungary to 31% in the United States to 66% in Spain.
Prime Minister Justin Trudeau told his daily briefing Thursday that the study shows the way we care for our seniors is not working. But he would not commit to imposing a national standard.
"I think we know things need to change. Do we need national standards or do the provinces just need to increase their standards significantly to reach an equivalent level across the country?" Trudeau asked. "The federal government will be there to help our seniors."
Trudeau said he will continue to work with provincial governments to help them improve their level of care.
Canada is facing a long term care crisis as the country ages. An economic analysis released last week predicted within 10 years, one out of four Canadians will be over the age of 65.
More than 650-thousand are expected to require long term care, an increase of about 200-thousand over the decade.
(Eagle News Service)