By Alex Dobuzinskis and Steve Gorman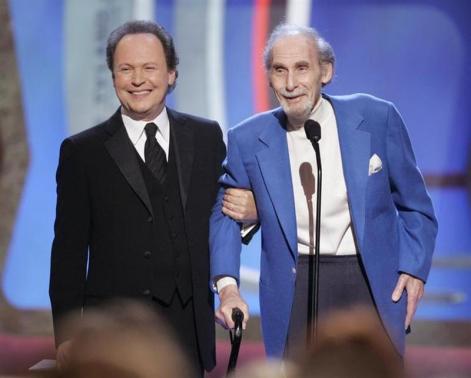 LOS ANGELES Wed Feb 12, 2014 7:23pm EST
(Reuters) – Sid Caesar, who pioneered TV sketch comedy during the 1950s as the star and creative force of "Your Show of Shows," a launch pad for the likes of Mel Brooks, Carl Reiner and Woody Allen and an inspiration to generations of comedians, died on Wednesday. He was 91.
Caesar, in failing health for at least a year, died at his home in Beverly Hills, where he had continued to receive visitors, reminisce and tell jokes, according to friends and collaborators, including Reiner.
Although most of today's television audience is too young to remember him from the height of his popularity, Caesar's work and imprint live on in pop culture touchstones as diverse as "The Dick Van Dyke Show," the box-office hit "Grease" and "Saturday Night Live."
With a career on TV, film and stage that spanned six decades but was marred by years of substance abuse, he is best-known for his work with comedienne Imogene Coca on the landmark "Your Show of Shows." NBC aired the show from February 1950 to June 1954.
One of the most ambitious and demanding of all TV enterprises, "Your Show of Shows" was 90 minutes of live original sketch comedy broadcast every Saturday night, 39 weeks a year. It is widely considered the prototype for every U.S. TV sketch comedy series that followed, including "Saturday Night Live."
"SNL" alumnus Billy Crystal remembered Caesar as "the greatest sketch comedian of all time" and "my first comedy hero and "inspiration." Crystal recalled a visit with Caesar in which "he got to run lines with him from 'Your Show of Shows.' One of the great moments of my life."
"All those who want to be funny should study his work," Crystal added.
Eddy Friedfeld, who helped Caesar write his 2003 autobiography "Caesar's Hours: My Life in Comedy, with Love and Laughter," said, "He was a unique talent, and he was a pioneer of television and entertainment when television was in its infancy."
"Your Show of Shows" and its successor series, "Caesar's Hour," became an incubator for some of the greatest comic minds in American show business, with a roster of writers that included Neil Simon, Woody Allen, Mel Brooks, Reiner (who also co-starred on the show) and "M*A*S*H" creator Larry Gelbart.
TV GOLDEN AGE INNOVATOR
Nominally hosted each week by a different star (much like "Saturday Night Live"), "Your Show of Shows" also featured a cadre of regular singers and dancers, as well as ballet and opera performances to lend an air of cultural refinement.
But the series became a hit because of the comic chemistry between Caesar and Coca, a former vaudeville performer nearly 14 years his senior, who died in 2001 at age 92.
Together they satirized historical events in a recurring bit titled "History as She Ain't," played marital strife for laughs in the husband-and-wife skit "The Hickenloopers" and poked fun at Hollywood with parodies such as "From Here to Obscurity" (a lampoon of the film "From Here to Eternity").
By all accounts, the writers' room could be a raucous place. Caesar, a tall, strapping presence, acknowledged he once was so angry at Brooks that he grabbed the diminutive writer and dangled him from a hotel window by his ankles.
Reiner later drew on his experiences with Caesar as material for the TV sitcom classic "The Dick Van Dyke Show."
Some of Caesar's most popular bits were built around pompous or outlandish characters – such as Professor von Votsisnehm – in which he spoke in a thick accent or mimicked foreign languages in comic but convincing gibberish.
COMIC SALUTES
"He was the ultimate, he was the very best sketch artist and comedian that ever existed," Reiner said of his friend. "His ability to double talk every language known to man was impeccable."
Mel Brooks said in a statement: "Sid Caesar was a giant, maybe the best comedian who ever practiced the trade. And I was privileged to be one of his writers and one of his friends."
Woody Allen saluted him as "one of the truly great comedians of my time."
In a 2001 interview with Reuters, Caesar said his ear for language grew from frequent boyhood visits to his father's restaurant in a blue-collar neighborhood of Yonkers, New York.
"Men used to come in – there was a French table, a German table, a Russian table and an Italian table," he recalled. "By taking up dishes during lunch hour, I'd pick (languages) up. You know, the first thing they teach you is the dirty words."
The son of Jewish immigrants, Caesar got his start playing saxophone in a dance band and performing comedy on the "Borscht Belt" circuit of the Catskill Mountains of upstate New York.
After serving in the Coast Guard during World War Two, Caesar appeared in a Broadway musical revue called "Tars and Spars" and a movie musical of the same name, landing a guest spot on Milton Berle's weekly TV show.
"Your Show of Shows" evolved from an earlier series, "The Admiral Broadway Revue," which ran briefly in 1949 on NBC and the old DuMont Television Network and first paired Caesar with Coca.
The two parted ways at the end of the "Your Show of Shows" run and never managed to replicate their success, even when reunited four years later on the 1958 show "Sid Caesar Invites You," which lasted just four months.
The waning of Caesar's TV career coincided with a two-decade addiction to alcohol and pills, although he earned a Tony nomination starring in Neil Simon's 1962 Broadway musical "Little Me" and had a role in the madcap 1963 ensemble comedy film "It's a Mad, Mad, Mad, Mad World."
After he conquered his struggle with substance abuse by the late 1970s, Caesar turned up as Coach Calhoun in the box-office hit "Grease," a role he reprised for a 1982 sequel. He made occasional TV appearances through the 1990s, including a guest turn as Uncle Harold on a 1997 episode of NBC sitcom "Mad About You," with Paul Reiser and Helen Hunt.
(Reporting by Alex Dobuzinskis; Writing and additional reporting by Steve Gorman; Piya Sinha-Roy also contributed to this report; Editing by G Crosse, Matthew Lewis and Jan Paschal)