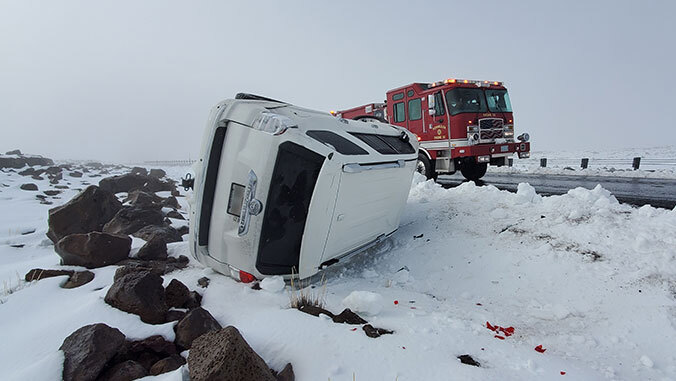 HONOLULU (Eagle News) – February is typically the coldest month in the Aloha State, and this year is no exception.
A high-pressure system north of Hawaii produced a cold front bearing winds gusting up to 50 miles (80 kilometers) an hour.
The storm approached the island chain from the northwest in the late hours of Tuesday, February 2, prompting authorities in the islands of Kauai and Oahu to issue wind advisories.
The system also dumped heavy rains in and around Honolulu, resulting in floods and fallen debris on many roads ahead of the morning commute.
The cold-weather system continued its eastward trek to Maui and Big Island, sending temperatures to the low 60s Fahrenheit (15.6 degrees Celsius) and producing snow on Hawaii's summits of Haleakalā, Mauna Kea, and Mauna Loa.
Though slightly weakened as it approached Big Island on Thursday morning, the cold front is expected to produce showers with a slight chance of thunderstorms through the evening.
Meanwhile, cool and dry conditions with light winds will prevail statewide from Friday through the weekend. A few light passing showers are forecasted to move through north and west facing slopes and coasts, with a shower or two developing during the day over interior and mountain areas.
In addition, rangers from the University of Hawaii's Hilo campus are urging residents and visitors to exercise caution when traveling up the summit of Mauna Kea. They reported four people who were playing in the snow on separate occasions required medical attention, due to either injuries or altitude sickness.
Two car accidents were also reported, including an overturned vehicle, as there is normally an increase in summit traffic after a heavy snowfall.
Mauna Kea is Hawaii's highest mountain at 13,803 feet (4,207 meters).
The National Weather Service predicts that another system is expected to approach the Central Pacific early next week, possibly bringing another round of widespread rainfall and colder temperatures to the state.
(Eagle News Service)