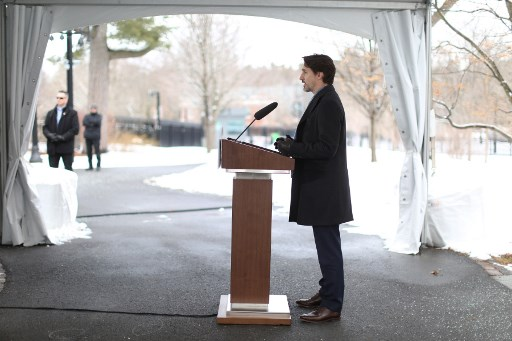 By Thomas I. Likness
EBC Edmonton Bureau
EDMONTON (Eagle News) — Domestic travelers in Canada face new rules as the country continues to wage war against the spread of COVID-19.
Prime Minister Justin Trudeau announced the new rules Saturday during his daily update on the COVID-19 pandemic.
"As of Monday at noon, people showing any signs whatsoever of COVID-19 will be denied boarding at all domestic flights and intercity passenger trains," said Trudeau.
He said transportation companies will enforce the rules.
"It will be up to operators of airlines and trains to ensure that people who are exhibiting symptoms do not board those trains," Trudeau said. "It will be a Transport Canada rule that will be enforced."
The new restrictions don't apply to interprovincial buses because they are not federally regulated but Trudeau hopes bus companies will follow them anyway.
The Prime Minister stressed people must avoid unnecessary travel but said he has no plans to close provincial borders at this time.
"Every step of the way we're going to look at whether we need to take further measures to keep Canadians safe," Trudeau said. "We will make those decisions as they are needed to be made but right now we are not looking at closing provincial borders.
Trudeau said the restrictive measures taken by various levels of government as COVID-19 spread are beginning to work.
"We see promising news out of B.C. that over the past couple of weeks, the measures taken in place by so many Canadians, the choices that Canadians have made, have had an impact on the overall numbers," said Trudeau.
But he warned against becoming complacent.
"We need to keep it up," said Trudeau. "We need to continue to what is necessary to prevent the spread of COVID-19."
– Trudeau's wife recovering –
Trudeau also updated his wife's condition. She had tested positive or COVID-19.
"Sophie is feeling great," said Trudeau. "My family is doing well, my kids, myself are all doing well."
Trudeau said he will continue to work from home.
"We've asked people to stay at home and work from home as much as possible, not go out if they don't have to," he said. "That is certainly something we're doing and encouraging everyone to do."
(Eagle News Service)