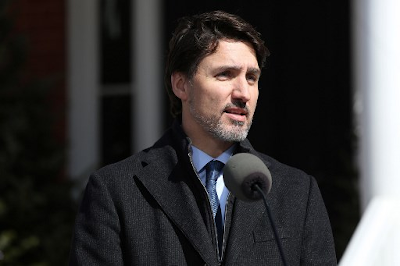 By Thomas I. Likness
EBC Edmonton Bureau
EDMONTON (Eagle News) — The Canadian government has shut the door to foreign visitors.
As the COVID-19 pandemic continues to spread, Prime Minister Justin Trudeau announced the aggressive moves Monday, which included reducing the number of airports where international flights can land.
"We will be denying entry to Canada to people who are not Canadian citizens or permanent residents," said Trudeau.
"I know that these measures are far reaching," said Trudeau. "They are exceptional circumstances calling for exceptional measures."
The prime minister said there will be some exceptions to the restrictions which come into effect Wednesday.
"These measures will carve out some designated exceptions including for air crews, diplomats, immediate families members of Canadian citizens, and at this time, U.S. citizens," said Trudeau.
Trudeau added airlines have been directed to forbid passengers with symptoms of COVID-19 from boarding planes.
"Air operators will be required to complete a basic health assessment of every air traveller, based on guidance from the Public Health Agency of Canada," said Trudeau. "This means anyone who has symptoms will not be able to come to Canada."
Trudeau said he knows these measures will cause concern among Canadians travelling abroad.
"I want to assure you that our government will not leave you unsupported," promised Trudeau. "To help asymptomatic Canadians return home, our government will set up a support program for Canadians who need to get on a plane."
He said there is money available for those stuck abroad.
"Canadian travellers will be able to get financial assistance to help them with the cost of returning home, or temporarily covering their basic needs while they wait to come back to Canada," said Trudeau.
The prime minister said starting Wednesday only four Canadian airports will be accepting international flights: Toronto, Montreal, Vancouver and Calgary.
Trudeau said the travel restrictions will not apply to commerce or trade, adding the government will continue to ensure the supply of important goods.
Trudeau said the restrictions are based on the latest available science and advice from health professionals.
"These measures will help save lives," concluded Trudeau.
(Eagle News Service)