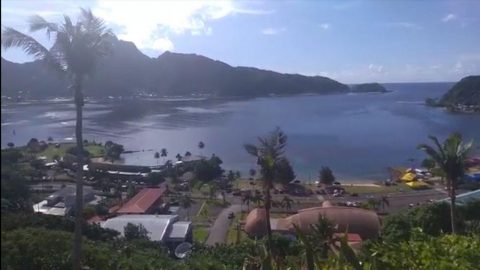 By Alfred Acenas
EBC Hawaii Bureau
with reports from Arianne Torres,  EBC American Samoa Bureau
HONOLULU, HAWAII (Eagle News) – As the Territory of American Samoa maintains a streak of zero deaths to the novel coronavirus 2019 (COVID-19) by implementing travel restrictions and stay-at-home orders ahead of any outbreak, Governor Lolo Moliga and his administration are attempting to repeat history for the right reasons.
According to the Centers for Disease Control and Prevention (CDC), the influenza (aka Spanish flu) pandemic lasted from 1918 to 1919, infecting about 500 million people, or one-third of the world's population at the time, and claiming at least 50 million lives in the process. The virus was first identified in the United States by military personnel in the spring of 1918. It would eventually claim about 675,000 lives in the US.
Military historians describe the US Navy then as heavily engaged in World War I while still unfamiliar with the virus. The Navy was forced to rely on quarantine or infectious disease stations as doctors, hospital corpsmen and nurses cared for the daily needs of the patients.
One naval officer who would be instrumental in saving lives in the South Pacific territory of American Samoa was Commander John M. Poyer. He served as its military governor from 1915 to 1919.
According to sources including the Territory's Department of Education, they generally described John Poyer as proactive. Upon learning of the influenza outbreak in neighboring Western Samoa, which was then under New Zealand and only 40 miles (64 kilometers) away, Commander Poyer banned travel to or from the neighboring islands. When Western Samoa sent a boat with mail to American Samoa, he refused even to allow the bags to be transferred.
In addition, those who studied the events over a century ago regarded the 57-year old military governor as compassionate to native Samoans. Poyer successfully persuaded citizens to mount a shore patrol to prevent illegal landings. People who disembarked from ships sailing from the US mainland were kept under house arrest for a specified period, or examined daily.
Aspects of the quarantine continued into the mid-1920s, long after Poyer completed his tour of duty and departed. As a result, there were no influenza deaths in American Samoa.
Commander Poyer was later awarded the Navy Cross, the service's second highest award. The citation reads:
"For his exceptionally meritorious service in a duty of great responsibility as governor of American Samoa, for wise and successful administration of his office and especially for the extraordinarily successful measures by which American Samoa was kept absolutely immune from the epidemic of influenza at a time when in the neighboring islands of the Samoan group more than 10,000 deaths occurred, and when the percentage of deaths throughout the Polynesian Islands as a group, is reported to have ranged from 30 to 40 percent of the population."
John M. Poyer passed away in May 1922 and was laid to rest at Arlington National Cemetery in Washington, D.C.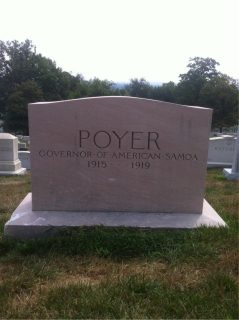 (Eagle News Service)