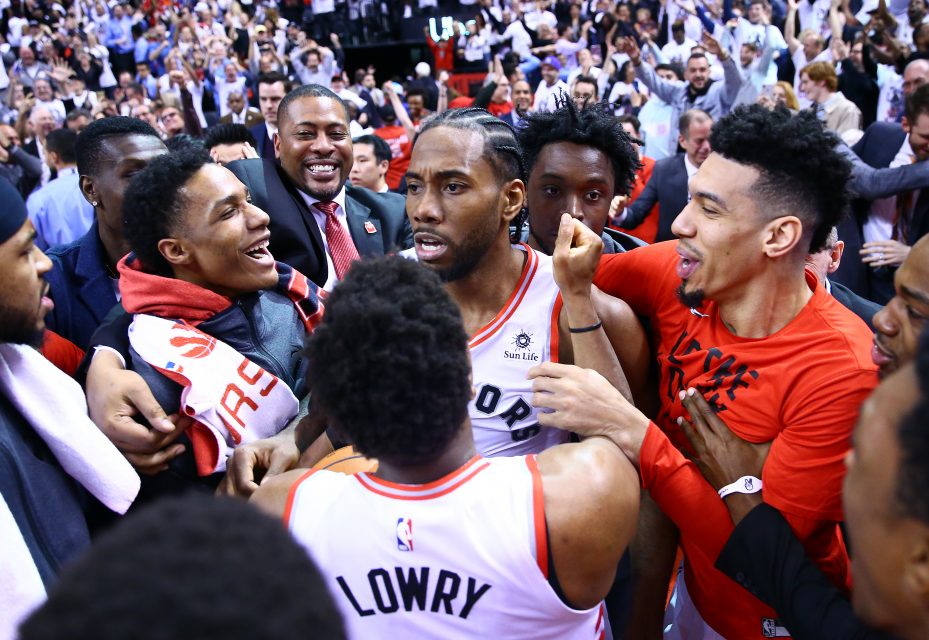 By Tennie Sumague
EBC New York Bureau
TORONTO, ON (Eagle News) – An epic Game 7 between the Toronto Raptors and the Philadelphia 76ers provided an unforeseen dramatic closing to a hard-fought series, which can best be described as 'poetry in motion.'
With 4.2 seconds left in regulation and the score tied at 90,  Kawhi Leonard dribbled an inbound pass from Marc Gasol to the baseline and shot a fadeaway jumper over Joel Embiid that bounced on the rim for seconds before going in  as the shot clock expired. The awe-inspiring, thrilling winning shot gave the Raptors a 92-90 victory over the Sixers to set up their Eastern Conference finals meeting with the top-seeded Milwaukee Bucks.
Never underestimate the mindset of Leonard. The All-Star forward's 41 points gave him a total of 243 points throughout the series, the third-most points accumulated by a NBA player.  His buzzer-beating shot was the first ever in Game 7 history and perhaps is one of the greatest winning moments NBA fans have witnessed.
"It was great," said Leonard. "That's something I've never experienced before, Game 7 game-winning shot.  It was a blessing to get to that point and make that shot, and feel that moment.  And it's something that I can look back in my career."
Leonard's teammates and Raptors fans celebrated in joy inside and outside of Scotiabank Arena. Social media went ballistic over the shot, as seen on Twitter where Raptors killer, LeBron James tweeted a slew of exclamation points on his account. The incredible shot gave fans a glimmer of hope that Leonard may extend his stay north of the border after this season.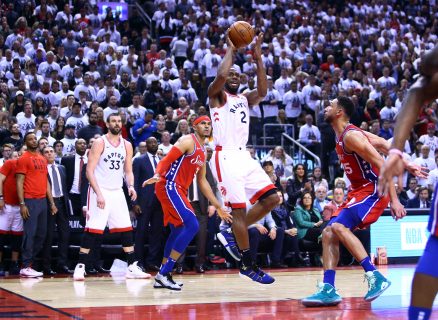 "We needed them tonight," Leonard added. "When we got leads, they screamed defense. Screaming the whole time. It was amazing when guys are shooting free throws, they're screaming the loudest they can. It was a fun experience, they've been great all year. We needed them. You know, it's what we fought for all year, getting that Game 7 if we get to that point and tonight they were big for us."
Walking through the tunnel to the visitors locker room was Embiid, overflowed with emotions and tears. He didn't care much about 'The Process.' He couldn't believe the game ended the way it did.
"Losing a game that way, last shot, after a hard-fought game, I [felt] we had a chance," said Embiid. "A lot of things go through your mind, it sucks.  I can't explain it, it sucks. We fought hard, everybody gave everything."
This Sixers squad now enter an off-season that may change the face of the franchise. This organization will have big decisions to make as key players who helped in their playoff push become free agents. As for the Raptors, they will travel to Milwaukee to continue their quest for the Larry O'Brien trophy.
(With reports from Zharita Dimaculangan and Jeremiah Balingit, EBC Southern Ontario Bureau, Eagle News Service)